Friday, January 15, 2010
Posted by

Jenny
at 3:25 PM
15 comments:


Friday, January 1, 2010
Whoa...the past 2 weeks have gone by so fast. It felt like I was just dragging out all of the Christmas decorations and now they are all boxed back up for Christmas 2010. We have traveled quite a bit over Christmas break, but I'll admit that the change of schedule from the constant go of our normal routine has been nice. I have also found time (just made time by neglecting the kids) to read 3 of the 4 Twilight series books. I must say that they are much better than I had anticipated. I figured after hearing all the hype that they wouldn't be near as good as everyone has said them to be, but I am hooked. In fact, I kind of hate to read the last one just because it would be an END.
New Year's Eve night was low keyed and we hung out with some of Wes's co-workers, but were home in bed before midnight and didn't even stay awake long enough to watch the ball drop. Our plan of a getting a decent nights sleep was interuppted by Addy's all-of-a-sudden 12 hour flu. We spent most of the very early morning hours changing bed sheets and replacing blankets from the pallets that we made on the floor as Addy managed to miss the bowl laying beside her everytime she needed to be sick. Poor girl. Happy New Year 2010!! However, it only seemed to last around 12 hours and she has been doing much better the remainder of the day.
Tonight will be my last post on this blog as we have definitely started a new chapter of our lives. This past year has been full of joys and blessings and our LEAP OF FAITH to Levi couldn't have been better. We are so excited about what the future and the year 2010 will hold for our family. So I guess I will wrap up this post with pictures from the last 2 weeks. Thank you everyone for all of the support and encouragement. We have appreciated all of the comments that we have received and we hope to continue with all of the friendships that we have developed because of this blog. We would still like to be part of your journey. Actually, I guess I will have one more post (sometime soon) linking everyone to the new blog. If anyone has any clever titles for me, please share... :) Happy New Year!!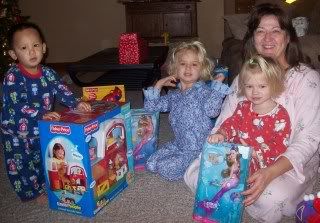 Christmas at our house with Grandma Penny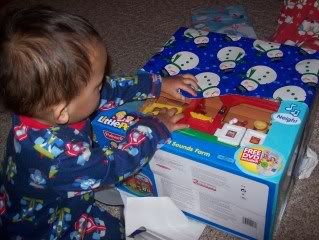 Levi was so delicately unwrapping all of his presents. Much different from the way Jaidyn and Addy ripped in to theirs.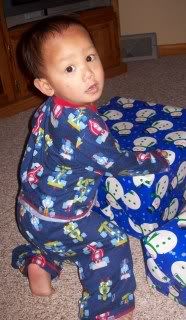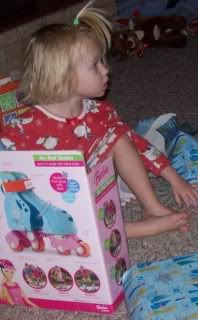 Cool, skates!!
The girls are getting really good at card games and dominoes...Vegas here we come!! Ha!
Because of the weather the girls have been skating around in our kitchen the past 2 weeks.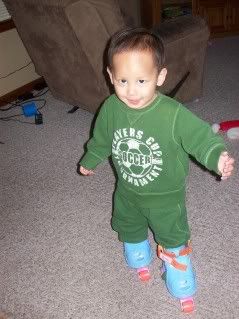 Even Levi has put the skates on all by himself and attempted to skate around.
As if everyone doesn't already know...Jaidyn loves to have her picture taken. She is quite the poser.
Levi is getting so much better at communicating. He uses several baby sign language signs and he has changed the "Change" sign to holding his nose when he fills his diaper. Some of the words he is saying are Mom, Dad, Ball, Hot, and Bath.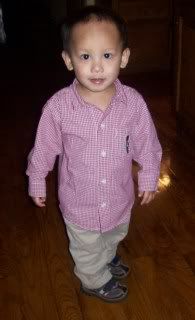 Christmas Eve...What a handsome little guy!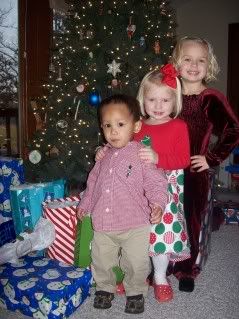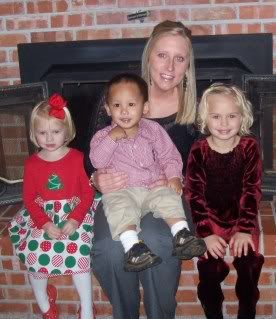 The kids with their Aunt Jill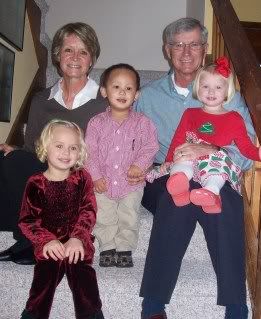 Papa & Nana with their Grandkids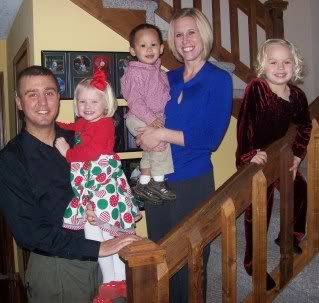 Christmas Eve 2009 Family Photo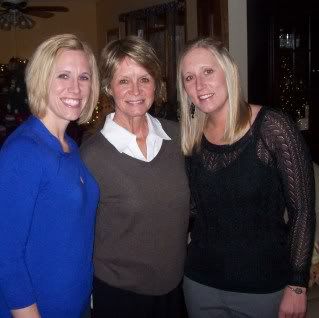 Me, my mom, and my sister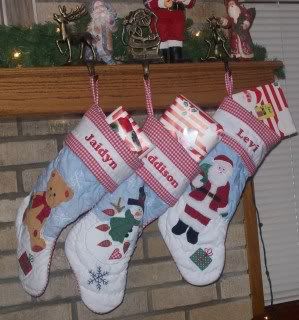 The stockings were hung by the chimney with care...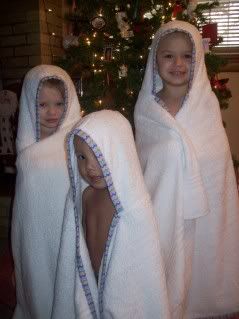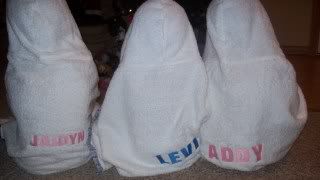 All bundled up their fluffy personalized bath towels...thanks Nana.
Papa JR and Levi sitting on the floor eating some soup. Levi didn't want to wait for a place at the table to start eating.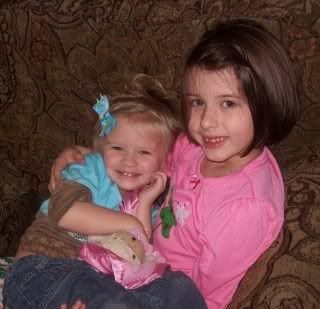 Addy and her cousin Haven
Addy, Haven & Jaidyn
Hanging out, getting ready to open some presents.
I have no idea what Wes is looking at, but thought the face that I captured was funny.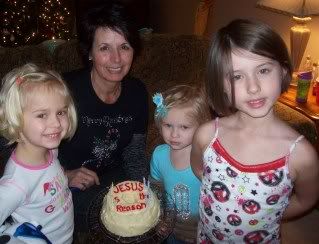 Jesus is the Reason for the Season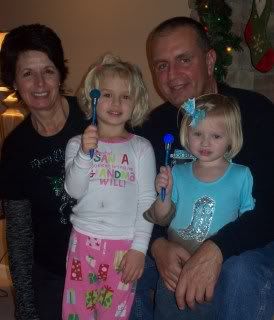 Jaidyn and Addy with Papa JR and Mama LaLa showing off their blinky pens.
Posted by

Jenny
at 4:01 PM
32 comments:


Wednesday, December 16, 2009
Jaidyn and Addy had their Christmas parties at preschool today and they won't return until the beginning of January, so we are officially starting our Christmas break. Yeah! I am looking forward to a couple days of down time...I really need to clean the house, it is a disaster. I would be so embarrassed if someone happened to stop by right now.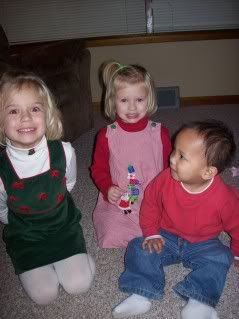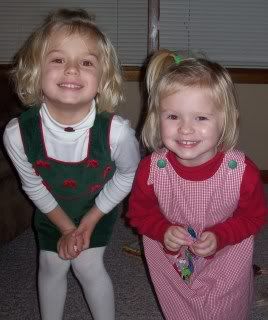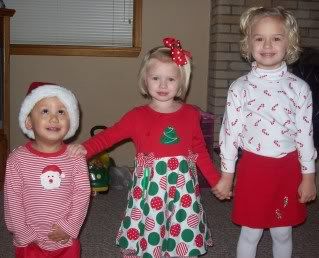 How many more pictures is my mom going to make me take this morning?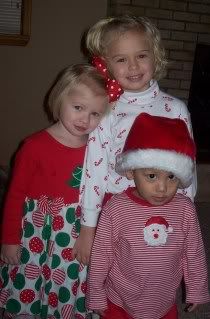 How much longer do I have to wear this stupid Santa hat?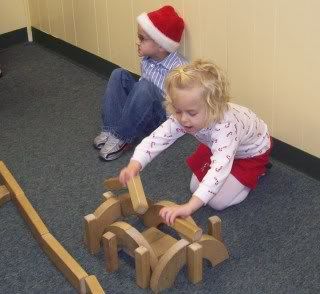 The Reindeer Pokey, "You put your antlers in!"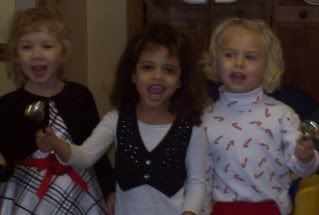 Christmas Carols!!!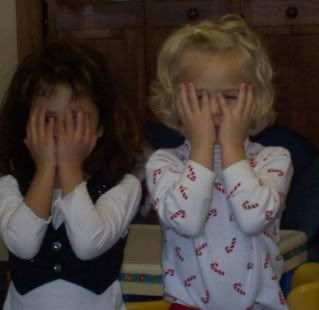 "When Santa comes to our house, I'd like to take a peek
but I know he'll never come until I'm fast asleep."
Daddy had the day off so he was able to come to the party.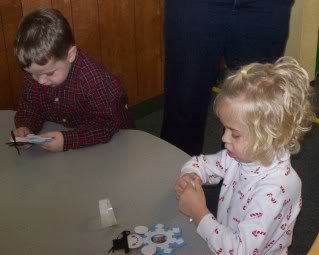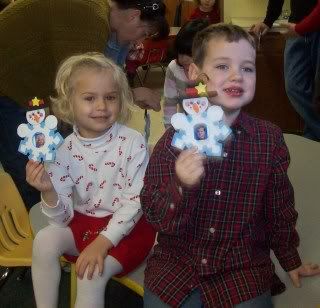 A Christmas snowflake ornament for the tree.
Cookie decorating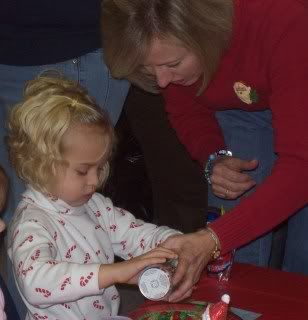 Lots of sprinkles!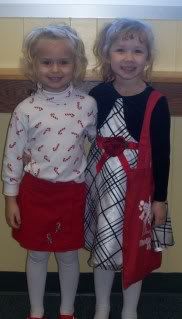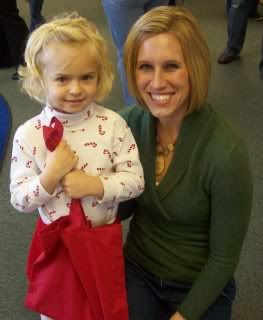 Addy has been dying to wear this Christmas dress every day since I bought it. She was so easy to get dressed this morning. It was so nice to have her cooperate and get dressed so quickly. Usually my morning consists of, "Addy, get your clothes on. Addy, you need to put your shoes and socks on. Addy, go in the kitchen and pick out your cereal. Addy, hurry and eat. Addy, have you put your shoes on yet? Addy, you still need to brush your teeth." I'm usually exhausted before we even get out the door.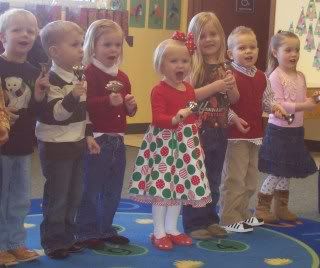 Addy was quite the caroler. She knew every word and all the actions. Too cute!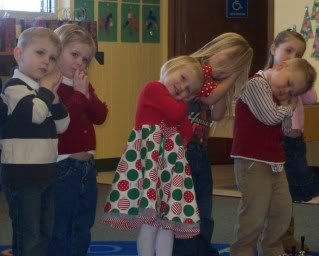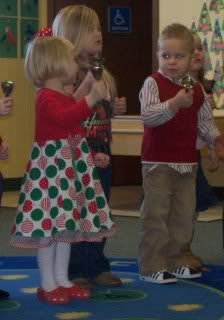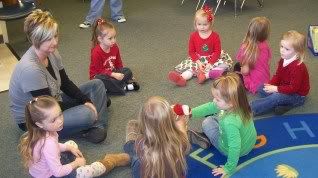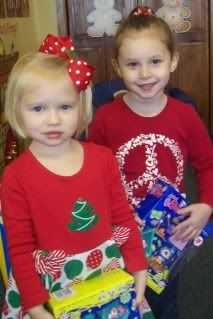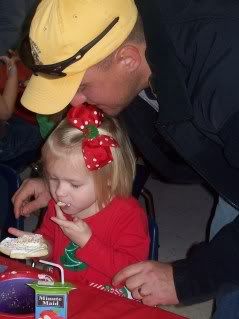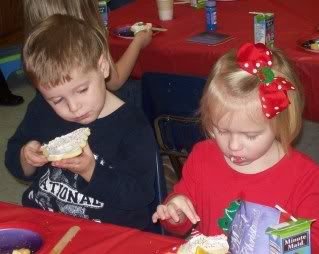 Posted by

Jenny
at 5:36 PM
2 comments: