We are all loving the warm spring weather. There has been some rain, but for the most part it hasn't spoiled any of our plans. I know I am a day early for Photo Friday, but we are going to be gone for the weekend and I had so many pictures that I wanted to share with everyone. Enjoy!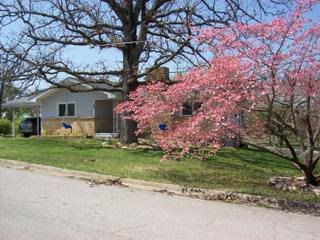 The pink flowering Dogwood Tree in our front yard is my absolute favorite. Not only is it a great climbing tree for the girls, but it is beautiful in the springtime.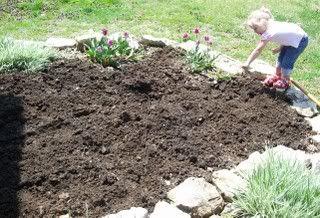 Jenny, Jenny quite contrary, how does your garden grow? Well, I am not expecting any Silver Bells or Cockle Shells, but would love to seem some lettuce, onions, cucumbers, tomatoes, peas, and peppers. This is my first attempt at a garden. Hopefully it becomes a plentiful vegetable garden and not just a haven for weeds. Jaidyn helped me plant it while Addy took an afternoon nap. She loves being included in everything I do.
Wes had a few days off this past weekend. We took the girls to Dickerson Park Zoo in Springfield. Since we watched Horton Hears a Who at the movie theatre two days before, all Jaidyn cared about seeing was "Horton" the elephant. Addy's favorite animals were the tigers. She watches some of the Baby Einstein DVD's and really likes the Tiger puppet. Making a tiger noise was one of her first animal noises. Grrrr!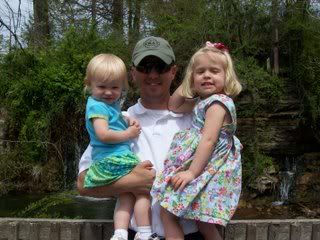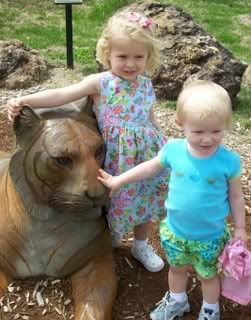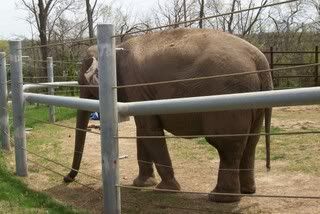 Addy plays with my make-up items in the drawer while I am getting ready. Usually she just plays with the make-up brushes, but this time she found the tube of lipstick.
Even though I have cleared most of the girl's winter clothes out of their closets and we have been wearing shorts the past few days, Jaidyn seems to have forgotten how to dress for various seasons. Poor Sunshine Bear is wearing a scarf and her pony is wearing a Halloween Sweater. :)
Yea! Addy finally has enough hair to be put into a ponytail. She has worn one the past two days and is so proud of her new look. This week has been the first time that she has worn any type of bow.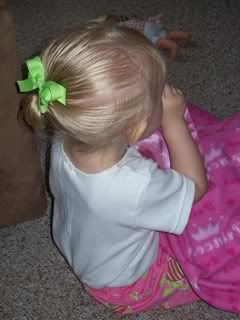 Poor Jaidyn...last weekend I came home to find both she and Wes sitting on the couch trying to fix this mess. I couldn't bring myself to post her face...it was so sad.
Unfortunately there wasn't much we could do but cut it out. Her bangs (a whole other story) are finally starting to grow back out and now she has spikes right on the top of her head. After her hair has dried they usually come out of her ponytail and stick right up.