Our biggest adoption fundraising effort is our upcoming garage sale. We have set the date for the 2nd and 3rd of May at my dad and mom's house. We will also have a second one later in the summer when Richland has their city wide sale. I have been very busy with spring cleaning and decluttering. I still need Wes to go through his part of the closet, but he did clean out the shed a couple of weeks ago. My parents have been wonderful and have let us bring everything over to their house and store it in their basement after I have had a chance to price it.
So, if any of our family and friends have started spring cleaning and have items that you are looking to get rid of, just let us know as we would love to take any donations. Please put the word out and if anyone you know may have items to donate, please tell them about our cause.
My sister-in-law Haley has already jumped on board and has brought over a truck load of items. Here it is all piled in my living room. The suitcases are filled with items. Thanks Hunter, Haley, and Haven for all of your prayers and support throughout our journey.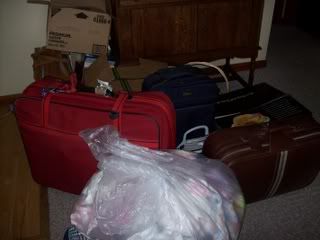 Please pray for nice weather that weekend and hopefully we will have a great turnout.