We enjoyed the few nice days of weather that this past week had for us. Jaidyn and Addy received sidewalk chalk in the shape of Easter Eggs from their Aunt Jill. We finally had a nice day to get them out and make art work masterpieces on the sidewalk and driveway. Addy followed Jaidyn around and would draw over the tops of all of Jaidyn's pictures with her big yellow chalk. Poor Jaidyn, it didn't matter where she drew next as Addy was on her tail ready to scribble over it. Their Papa J.R., Mama LaLa, Aunt Haley and cousin Haven visited on Wednesday and the girls had a full day of playing outside. It was beautiful! The girls had rosy cheeks later in the evening as it didn't even occur to me to put sunscreen on their faces. The sunscreen has been added to my shopping list for next week. I guess it is that time of year to start taking extra precautions from the sun.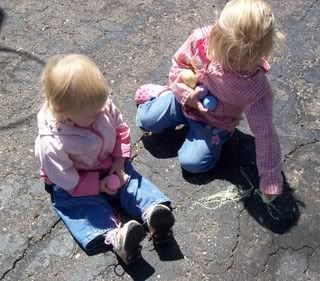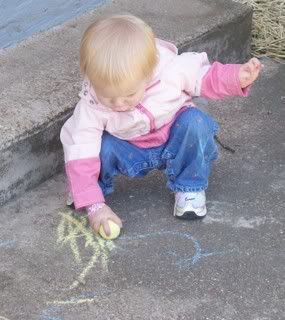 TWINKLE, TWINKLE, LITTLE STAR
Addy loves singing this song along with her Leap Frog Karaoke Toy. I am sure that you have noticed that her shoes of choice are once again the red glitter shoes. In fact, she is wearing them right now with her Blue's Clues nightgown.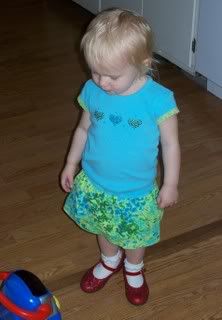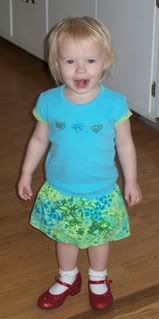 "Like A Diamond in the Sky"
Another one of Addy's favorite hats. Silly Girl!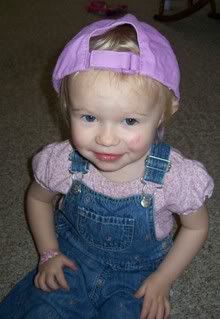 My parent's have been thinking about screening in the deck on their summer lake house, partly so everyone can eat outside on not be bothered by flies, but I think I may have found another solution. Check out her tongue!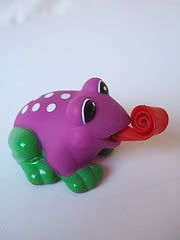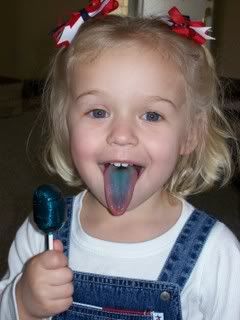 I am not sure if any of you are familiar with the Bella Dancerella dancing DVD, but Jaidyn loves it. She can sing along to most songs and can follow many of the dance moves. On the DVD, Bella the popstar wears a head set while she sings and dances. Tonight Jaidyn was cutting and taping things with her craft supplies. Here is her latest creation...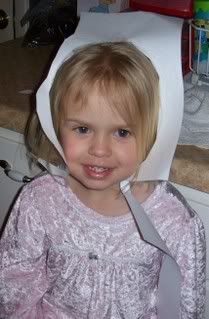 It's a Bella Dancerella Head Set, can't you tell?