I wonder what the neighbors were thinking as both Jaidyn and Addy were riding around on broomsticks in our front yard this evening? And no, they weren't galloping on them, so I am pretty sure they knew they weren't playing horsey. I figure as long as I don't start wearing long black dresses and boiling food in big black pots, we are safe. :)
Yesterday, while Addy was taking a nap, Jaidyn and I read "Dorrie and the Halloween Plot". There is a children's series of
"Dorrie"
books and I can remember my mom reading them to me when I was young. I wonder if these books were the root of my love for Halloween? This is the first "Dorrie" book that I have read to Jaidyn and I wasn't quite sure if she was old enough for them or would even understand the story, but apparently she did. In these books, a cute little girl witch, Dorrie and her black cat Gink always find a way to save the day. In the book yesterday, Dorrie was begging her mom to teach her how to fly on her broom.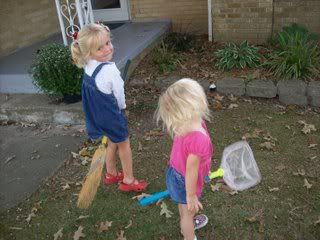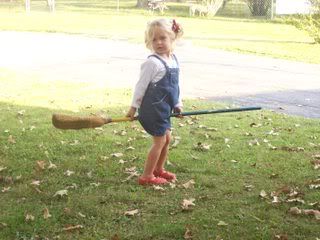 Jaidyn and Addy pretending to fly around on broomsticks in our front yard. (Addy didn't actually find a broom, but the fishing net seems to work.)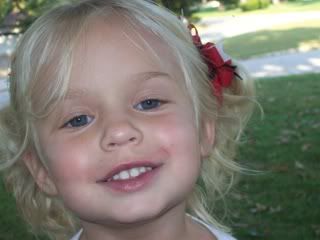 See, up close and personal they aren't so scary and even with their brooms, they are actually pretty cute!