Attending the fall festival last weekend and having nice, crisp morning air all week has put me in the mood for fall. Once again, I couldn't wait until October to put out all of my Halloween decorations. My house is definitely ready for October. As if getting all my decorations out and put up around the house wasn't enough of an extra task for the week, I decided to give the bathroom a mini-makeover. My bathroom was kind of a hodge podge of items and colors and I wanted to give it a more uniformed "Pottery Barn" style look on a low budget. A couple of cans of black spray paint can go a long way into changing up the look of a room and fit perfectly in to my decorating budget.
Our bathroom towel racks were sage green in color and even though I didn't mind the color I gave them a nice coat of black paint. The once, brown wicker basket holding the candles and white pitcher also became black.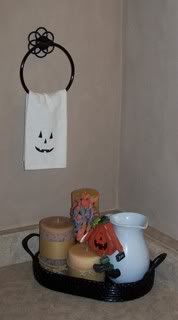 I love my little magazine holder rack (yes, the bathroom is where we read our magazines) and it went from being Shabby Chic vintage white in color to now, black. I found the cute little metal pumpkin tea candle holder at the thrift store this week and it also received a coat of black paint.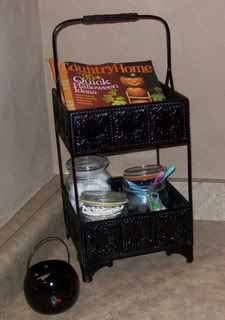 My metal shelf was white and guess what? It is now black. I love how it looks with my little Halloween decorations.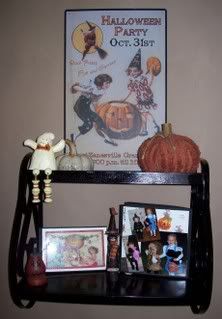 So what do you all think? Did I go overboard with the black paint? Well, don't answer just yet as I didn't stop there. I also found this metal plant stand at the thrift store earlier this week and thought it would be great with my front porch mums. After a quick scrubbing and a nice coat of paint, I think it turned out pretty good.
This is our fireplace mantel all done up in the spirit of Halloween. I just love my new little Halloween banner. Oh, and the little candle stand at the right corner is another thrift store find this week that, you guessed it...I painted black.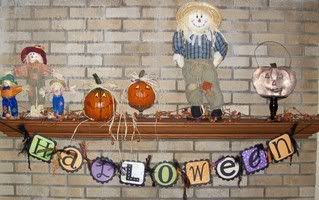 This is one of my all-time favorite Halloween decorations that I love to display. Each of my girls have a mini folding album that I add to each year with pictures of them in their Halloween costumes. They really get a kick out of looking at them as well.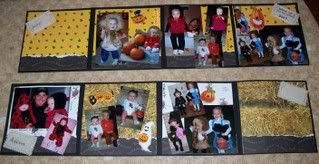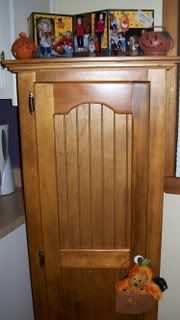 I even jumped on the white pumpkin bandwagon that seems to be very popular this year. Instead of buying a white pumpkin, I purchased an orange one and spray painted it white. I have read that the pumpkin will last just as long even though it is painted. I like how my white pumpkin turned out and I like the cute black vase (yes, another thrift store find that was once white until this week when I went to town with the spray can of black paint) but this isn't really what I had in mind for the centerpiece of my table. Anyone have any ideas on what I could add? Should I completely take off the raffia and ribbon? Maybe I needed to use a bigger pumpkin. Please help! I promise my feelings won't be hurt.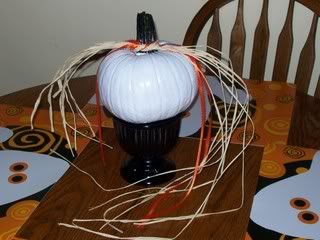 Black overload or not, I am pretty pleased with all of the results. Wes likes it too and that is a plus, as his idea of a mini makeover would include hanging a mounted fish, deer antlers, or a bore head on the wall. I promise, I will always get my way with that battle. There is no compromising when it comes to dead animals on the wall, yuck! Well, I still have a half can of black spray left so I guess I will go see what else I can find. :)