After an early morning of garage sales at a Mom to Mom and a JBF sale, my mom and I took Jaidyn and Addy to Wickman's Nursery Fall Festival. Unlike what many others are experiencing in the state of Texas with the Hurricane, we enjoyed perfect weather for a fall day. Jaidyn and Addy rode the train, visited the petting zoo, got their hand painted, and picked out their own little pumpkins. I had 2 darling pumpkins painted up for each of the girls and my mom and I picked out several ginormous (I know Gi-normous isn't a word, but I like using it anyway) Mums to decorate our front porches. And I really liked the free buttery popcorn that they were giving out.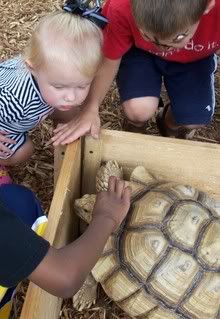 Addy isn't sure what to think if this huge African Tortoise.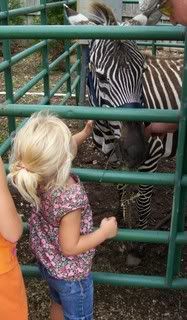 Jaidyn wasn't shy about picking up some feed and feeding the Zebra.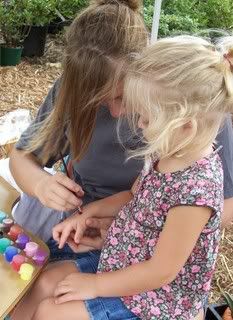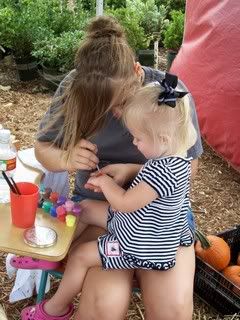 They both decided to have a ladybug painted on their hands instead of their face so that they could actually see and enjoy it.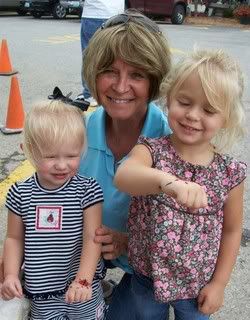 Addy and Jaidyn with Nana showing off the ladybugs painted on their hands.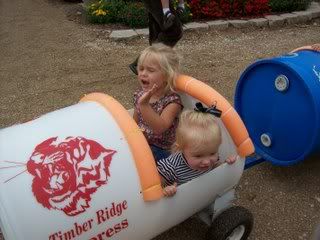 Puff, Puff, Toot! Toot! Riding the Train.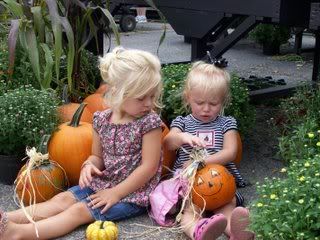 Jaidyn and Addy with their painted pumpkins. Unfortunately, the look that Addy is giving in this picture is the look that we had been getting the last couple of hours. At this point in the day, she was past ready for a nap.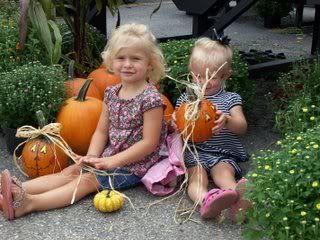 PS - Thanks mom for planning out a fun Saturday for the girls and I. I am sure Plan B was as much fun as Plan A would have been. Ha! :)