I know it may be a little early for Christmas decorations since Thanksgiving is still a week away, but in our house it is beginning to look a lot like Christmas. Last night, Wes, the girls and I put up our Christmas tree. Jaidyn loved every minute of it. She could hardly keep her hands out of the ornament box as she anticipated each ornament that I brought out of the tissue paper and bubble wrap. She loved me telling her about each of her ornaments, who she received them from and how old she was. She was so proud of each of her ornaments and placed most of the on the lower center front of the tree. I had to keep encouraging her to spread them out.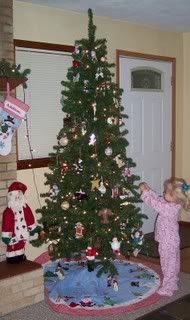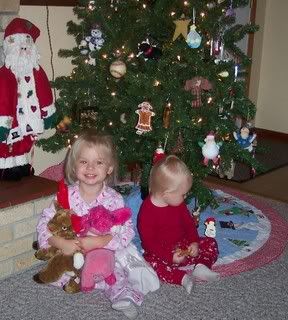 Decorating the tree with ornaments is my favorite part of the entire Christmas decorating process. Christmas ornaments bring back wonderful memories. Since Wes and I received an ornament each holiday season from our parents throughout our life, most of our ornaments have a special meaning or a story that we are able to reflect upon each holiday season when the Christmas tree is decorated. As the keepsake ornaments are unpacked and hung, special memories are brought to mind and the joy of past Christmas's come alive again. I especially love Wes's cowboy themed ornaments. Yes, at sometime he wore those tight wrangler jeans. Unpacking my ornaments brought back special memories of being a Brownie, my favorite toy, our first family dog Ozzie, and Wes and I's first home in Carl Junction. Jaidyn and Addy have also become part of the tradition as they have received several ornaments for each holiday season..."It's a Girl" jingle bell, pink shoes, Gingerbread Girl, and photo ornaments. I can hardly wait for the homemade decorations to begin. Maybe Jaidyn will make one in preschool this year. Receiving an ornament each year invites us to tell stories of the decorations as they are hung, and is a tradition that I hope to pass down to future generations of our family.
Tonight, I purchased an adoption themed
ornament
from
Shaohannah's Hope
. This will be the first ornament, of many, that we give to our child so that each holiday season we will be able to tell him/her about their adoption.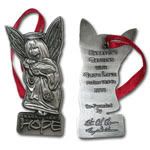 This Angel Christmas Ornament celebrates all those who are "Embracing Orphans With God's Love."
The best part...All proceeds of the ornament sales will go towards "setting orphans in families." Shaohannah's Hope funds many
adoption grants
monthly. Shaohannah's Hope receives approximately 125 adoption assistance applications a month, with funding capacity, currently, to award 30-40 grants each month with an average amount of $3,000. Steven Curtis Chapman has become a voice for this cause and has developed a fantastic foundation. His message has impacted others and helped find forever families for hundreds of children around the world.