This past week we have been enjoying spring break. The girls don't have preschool this week and we have had some beautiful 70 degree (almost 80) weather. The girls and I invited ourselves along and spent a couple of days at the lake house over St. Patrick's Day with Papa and Nana. Wish Wes could have joined us but he had a special training workshop for a couple of days this week. Today is only in the 50's, but this is giving me time to catch up inside since we have spent so much time outside the past few days.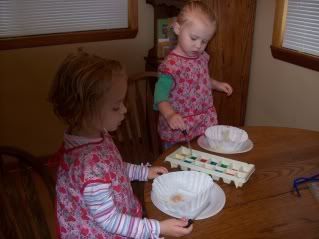 The girls got to make a butterfly craft with Kelly through the Parents as Teachers program.
Kelly always brings some new puzzles, books, and toys for them to explore during her visit. This Strawberry Shortcake number puzzle caused a fight between the girls. Yes, Addy still needs a lot of work on sharing and waiting her turn.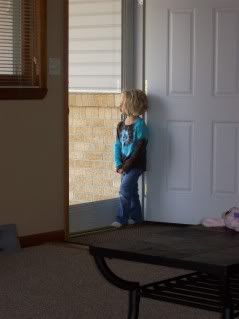 Jaidyn counted down the days until Grandma Penny came for a visit. Her she is counting down the minutes...just staring out the glass door waiting to see her red car drive up the road (she tricked her as she didn't drive her car).
Uncle Jay, Grandma Penny, Jaidyn & Addy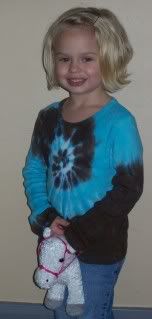 Grandma Penny brought them the movie Flicka and here they are riding their own bucking wild horses. Ride em' cowgirls!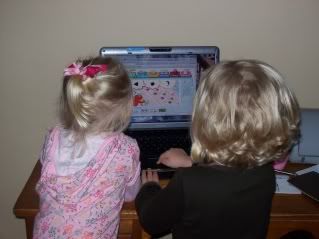 Jaidyn and Addy enjoying some online game computer time. Jaidyn would move the curser and then let Addy press the key button, so it worked out pretty good.
Enjoying just a taste of summer! Eating popsicles up on Papa Dave's workbench.