It's been a busy weekend and I am trying to catch up on things, but I did want to post some pictures from our Shamrock Shuffle Run & Leprechaun Lap. It was a project graduation fundraiser. It was lots of fun and I hope they do it again next year.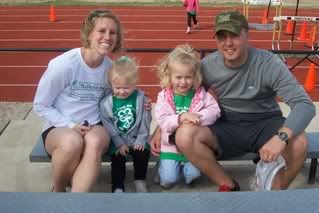 Family Picture...very windy day!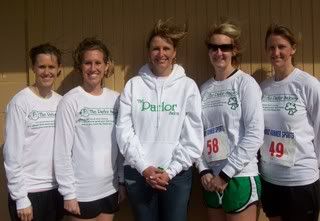 The Parlor Salon team posing for a picture before our run. The team consisted of a 1 mile walker, 2- 5K runners and 1- 10K runner (lucky me).
Our shirts say "It's not just about winning. It's about how good your hair looks when you cross the finish line." The crazy wind just wasn't doing our hair justice.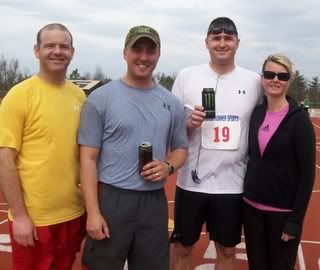 Wes's team, The Copper Stoppers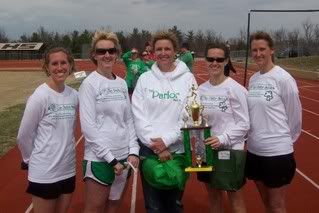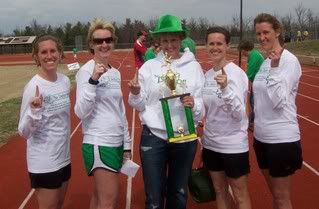 Yea, we are all smiles! We received first place in the All Female team division.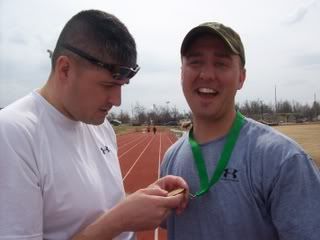 One of Wes's teammates is extending his congratulations. Wes received a 2nd place medal for his HUGE efforts in the mile walk. He was supposed to run one of the 5K's but since he is recovering from pneumonia he decided to switch places with one of his teammates and walk the mile. The funny thing is there were only 2 guys who walked the mile...he had to get either first or 2nd. Most of the females smoked him. I think if he would have got his hips and arm pumping into his walk it might have helped him a little. In his defense, he did come find me on the race route and ran the last 2 1/2 miles with me back to the finish line. I was needing some motivation about that time in the race.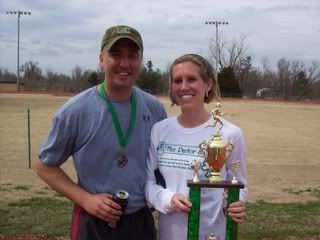 My trophy is bigger than your medal!!! I have to needle him any way that I can. :)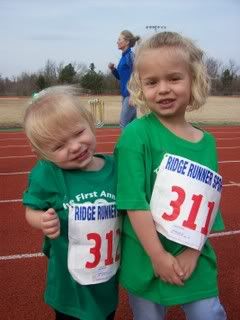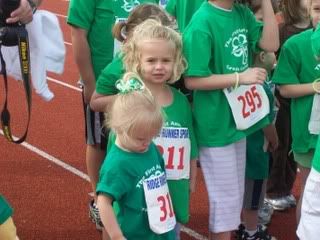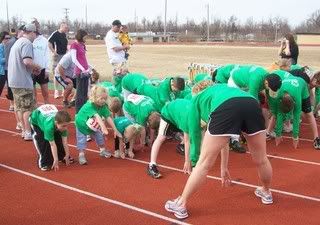 The Leprechaun Lap was quite an experience for the girls. They truly had no idea what they were getting themselves in to. An entire lap around track is a looonnngggg way. Addy and her tiny little legs made it about 1/4 of the way around before she started crying and refused to run any further. Wes had to carry her the rest of the way around all while she was in tears. Jaidyn made it about 3/4 the way around until she decided that her legs were way too tired. She also decided to cry, I think mainly because she is super competitive and seeing all of the other kids (most were a lot older than 4) already done at the finish line upset her.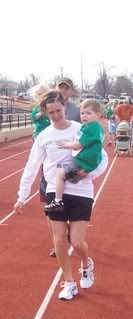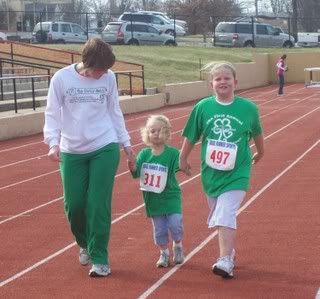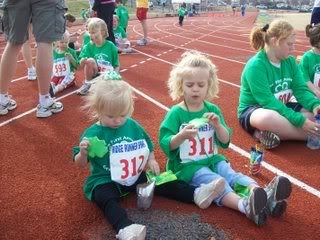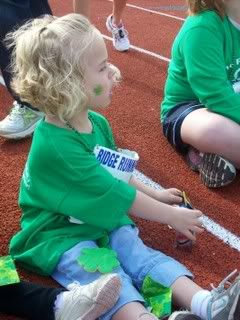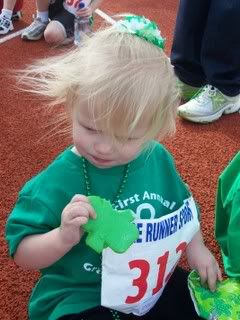 No more tears! Shamrock cookies, Capri Sun drinks and beaded shamrock medals made the race well worth it.
Saturday night we celebrated Wes's dad's birthday. They hired a babysitter and we all had a night out. It was Greek night at the bar we went to. J.R. really enjoyed the belly dancing expedition and since it was his birthday he received a little extra special attention. I think the pictures are self explanatory. I even learned one of the Greek circle dances.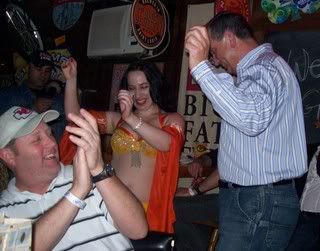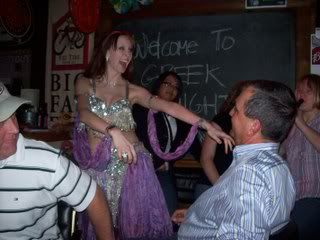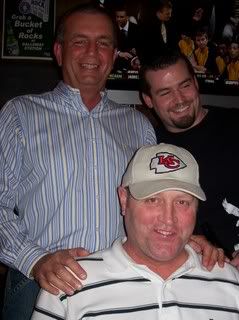 The girls had a great time with the babysitters and I think they enjoyed the free reign of the cookie jar and jelly bean bowl since all of the parents were gone.