Until now, Jaidyn has been completely into only her stuffed animals...Bear, Happy Feet, Pink Puppy, Shamu, White Kitty & Kittens, and the list goes on. Sometimes I have to work very hard at finding a place for both Jaidyn and Addy to sleep. Yes, underneath this pile is a bed with Jaidyn and Addy sleeping soundly.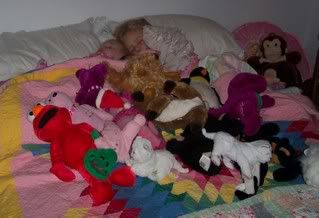 Last week, my mom and I went thrift store shopping to hunt for some Ebay treasures and instead I found a treasure for both Jaidyn and Addy. A few months ago I had been contemplating on whether to buy Jaidyn an American Girl Bitty Baby doll for her birthday as I love these dolls. However, it wasn't really in the budget and she has never really been that interested in any of her other dolls. So, I just kind of forgot about the idea. Searching through the thrift store, off in the center laying on a couch was a baby doll in a Bitty Baby carrier. The doll in the carrier was an American Girl Bitty Baby doll and thank goodness no one who worked in the thrift store actually knew what kind of doll it was, so it was definitely priced in my budget. Just as I was heading to the counter to pay, I noticed a big plastic bag labeled "Build-A-Bear & Doll Clothes". After further examining the bag, I realized it was packed with American Girl Bitty Baby doll clothing. Now, not only did I have the doll and carrier, but lots of clothing and accessories.
I believe that this doll was meant to find my hands. The past couple of months, I have been looking on the internet for Asian inspired toys and dolls as I want Jaidyn and Addy to experience some Asian culture through toys and books. Not only did I find this doll, but the best part...it is Asian.
Jaidyn has completely taken to this doll who is now named Lizzie. We even took Lizzie with us this past weekend to see Santa. Jaidyn dresses Lizzie everyday and when we leave the house, Jaidyn dresses her in a snowsuit and scarf. Lizzie has been brought along on every car ride. As you can see in the picture, Lizzie gets to take naps with Bear. Jaidyn is pretty stingy when it comes to Bear and rarely shares it with anyone. Tonight, Jaidyn even went and picked out her orange pajamas so she would match Lizzie's pajamas.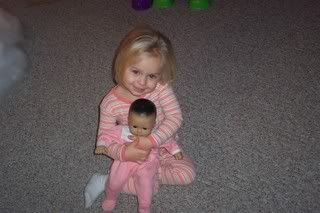 The doll has also sparked several conversations between Jaidyn and I about the adoption and the addition that will one-day join our family.
I guess the American Girl doll statement is true, "For every wish or dream, there's a doll waiting to share it with you".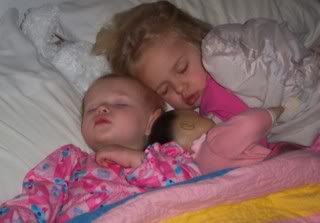 Somewhere over the rainbow, skies are blue, and the
dreams
that you dare to
dream
really do come true.
Sweet Dreams!