Tonight I made Chicken Adobo with Jasmine Rice for dinner. I was actually pretty sceptical as my kitchen smelled of strong garlic and soy sauce all afternoon while the chicken marinated. However, it turned out to be really good, much better than I anticipated. Jaidyn ate a good portion that was on her plate. Addy wouldn't touch it. I tried putting a bite in her mouth, but it was spit back on her plate immediately. I expected that as she doesn't like to eat anything that doesn't look like a vanilla wafer or fruit snacks. Wes and I really liked it and I would fix it again. I did vary the original recipe a little as I read that someone added brown sugar. I think the brown sugar made the sauce a little bit sweeter.
Wes was home for lunch and cut the chicken into pieces so I could put it in the marinade.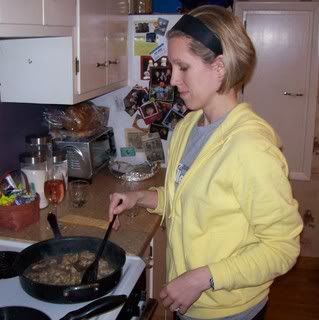 I am not sure what I think about the strong Garlic and Soy Sauce smell, so I am adding some brown sugar.
Wes's Plate
Jaidyn and Addy are eating their yogurt, but they haven't touched the Chicken Adobo yet.
I was worried that the Chicken Adobo was going to be a complete failure and that I would spend the rest of the evening looking online to see if they had McDonald's, Taco Bell, and Burger King in the Philippines. I think I might be able to survive for a week on Chicken Adobo and I might even start looking for another Asian recipe to fix in the upcoming months.