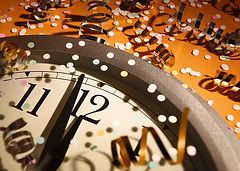 Ok, so this is a little late...Happy New Year! I'm a little late with the good wishes but I hope everyone rang in '08 with a bang! I can't believe it is already January 9th. I thought things would slow down after Christmas, but I can already see that 2008 is going to be a busy year.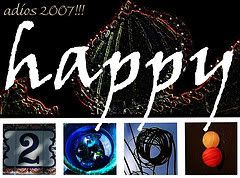 Wes and I are starting ballroom dance lessons this month. Wes has polished his slick soled shoes and is ready to go. My mom and dad are taking the lessons with us. I can't believe my mom actually talked my dad into this. Dad, it is about time you learn to do something more than bang around that tambourine when you are on the dance floor.
Wes has many career related goals he hopes to accomplish this year. He has signed up for an Executive Protection training course and also wants to go to the Police and Firearms instruction schools, so he can be qualified to teach. He also is looking into doing an internship with Governor Security sometime this year.
I have started playing on a co-ed volleyball team on Tuesday nights. This will last until early spring. I am so excited to start playing again as this is my only source of exercise each week. (Sad, but true)
Jaidyn is starting gymnastics lessons. She loves prancing around in her leotards. She will add gymnastics to all of her other activities that she looks forward to each week, Library Story Hour, Preschool, and Sunday School. Jaidyn has become a little adult and is the best big sister to Addy.
Addy is continuing to develop a STRONG personality. Today, Kelly, our Parents as Teachers representative came out to the house. She had some handouts on social-emotional development for a 14-24 month old. According the handout, Look for your child to...Want to do things her own way and say "no" alot, get mad and have temper tantrums, think about her own feelings and get mad when things don't go her way, not share toys with other children, likes to give hugs and kisses, know that family and friends are special people. I am so glad to know that socially and emotionally she is right on track. One of her favorite TV shows is Blue's Clues. I love to watch her sit in her little learning chair with her notebook and crayon just scribbling away. We have set the little potty out in the bathroom and are working toward potty training. She doesn't have any desire to use it yet, but does enjoy flushing the big potty. Addy will also start Preschool in the fall of this year. With both girls in Preschool in the upcoming school year, I will be taking trips to Lebanon 3 times a week.
2008 has arrived! Only God and time will tell if 2008 is the year for a Filipino child to enter our family. More than likely not, but it doesn't hurt to be optimistic about it. Maybe we will be blessed to have received a referral before 2009 rolls around. However, we are very excited about welcoming two new (nieces, nephews ???) in the upcoming year. Jaidyn couldn't be more excited about the babies in her Aunt DeDe and Aunt Haley's bellies.