A few weekends ago we celebrated the marriage of my Cousin Sally and her husband Damian near Kansas City. The wedding was beautiful, gorgeous weather and it was perfect ceremony. I loved her pink color choice and all of the Lily flowers. Jaidyn was a flower girl and loved getting to be a princess in pink for the day. As a gift from Sally, the flower girls received matching flower girl dresses for their dolls. Since the wedding, Jaidyn has been taking turns marrying her stuffed animals and dolls. Just recently, Lizzie (her doll) married the stuffed bear Corduroy.
We all had a fabulous time at the reception. We definitely danced the night away. Jaidyn and Addy spun circles and twirled for hours. Along with my sister, cousin and Aunt, I pretty much danced to about every song that was played...Chicken Dance, Cotton-Eye-Joe, Electric Slide, Cha Cha Slide and Dollar Dance. Wes and I even got to swing dance to a song. We really need to practice as we have forgotten a lot of it from our lessons this past winter.
Here are some of the pictures from the wedding and then a slide show. I had lots of pictures from the weekend!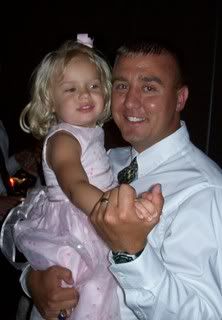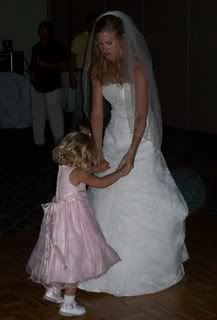 The Wedding Slide Show