With three Thanksgiviving dinners in the last week, I am officially STUFFED. At any given moment, I believe Wes, Jaidyn or I could start gobbling. Since there wasn't peanut butter & jelly yesterday, Addy & Levi ate like birds. They missed out! I can't really complain as when I stepped on the scale this morning, I weighed 1/2 lb. less that I did on Thursday morning. WTH! We had a great time getting to visit so much of our family over the past week and Levi met more of his relatives for the 1st time. We are so blessed to have such a wonderful, supportive family and are glad that so many of us get to be together over the holidays.
We celebrated Thanksgiving a week early with Wes's mom and extended family. Jaidyn also reminded her Grandma Penny that her birthday was coming up so we did some early 5th birthday celebrating as well.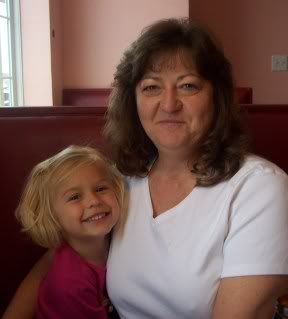 Jaidyn and Grandma Penny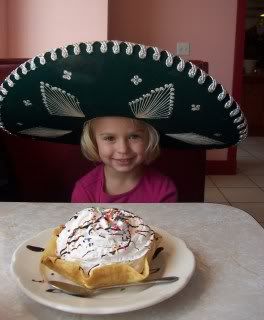 Jaidyn got to wear the Sombero hat while eating her fried icecream.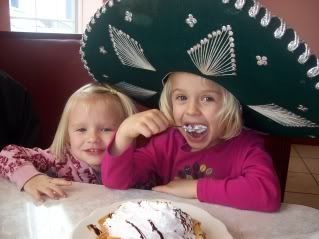 Addy sucking up to her sister hoping that she will share. That bowl was huge so we all shared it.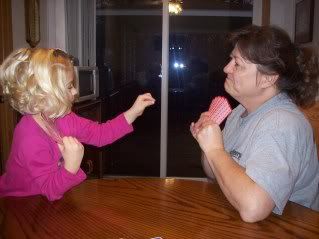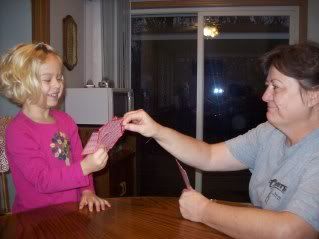 These two probably played over 30 games of Old Maid, Go Fish and War. Jaidyn is actually very good at cards or maybe just extremely lucky with the hand she is dealt.
Levi loved the four wheeler. He would probably be content riding on it for hours. Anytime that I tried to get him off, he would throw a fit and start running after Grandma Penny on it.
One of Addy's favorite toys is her stick horse Flicka (some days she changes it's name to clifford). She can gallop like no other. It is funny to watch her stomp and snort like a horse before taking off in a gallop. Levi has also figure out how to run with it. I think that a smaller stick horse would work out much better for him. When we first brought him home he wanted nothing to do with the stick horse as it scared him. He changes so much everyday.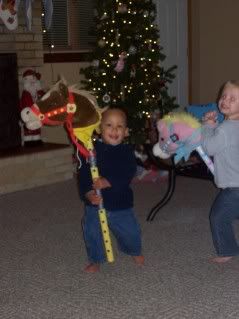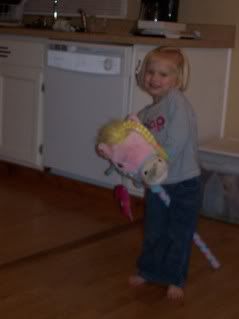 You can tell by the nose that she takes this outside with her often. Too bad they can't be washed.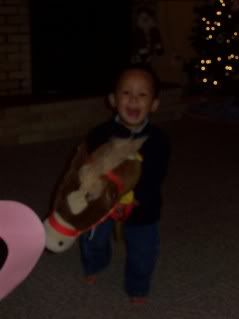 Jaidyn and Addy really wanted to go on a picnic today and since it is only in the low 60's (that might be estimating high) we had a picnic on the kitchen floor.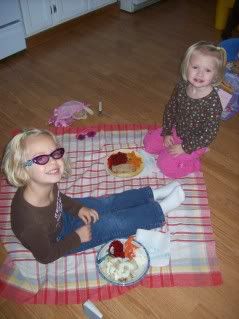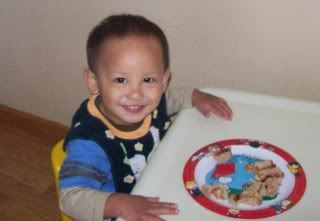 I thought he might be better off eating at a table, but eating on the floor must have looked like more fun.