What Santa Doesn't Bring Me, Grandma Will!
The kids received these darling pj's in the mail as a surprise from their Grandma LaLa. Can you tell they are definitely spoiled. And I noticed that there is nothing mentioned about PaPa on the pj's...I guess that will teach him not to leave ALL the Christmas shopping up to Grandma.
This morning we braved the cold and misting rain to see Santa and watch the local parade. We first stopped off at the library so each of the kids could sit on Santa's lap. Jaidyn and Addy were prepared as they both had items on their list that they wanted him to know about. Jaidyn also asked Santa if he liked apples. Lately she has been very concernced about Santa and his big belly. She is worried that if he keeps eating cookies he won't fit down the chimneys anymore. She has decided that we are setting out milk and apples for Santa on Christmas Eve. Levi did not like Santa at all and wanted nothing to do with him. We did torture him for a few seconds just so we could get a picture of him on Santa's lap.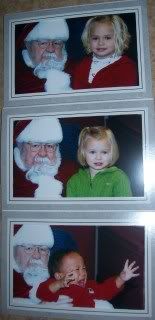 We haven't even made a dent in the Halloween candy and now after the parade we have refilled the candy bowl. Ugh! Levi wouldn't wear his gloves and his poor little fingers had to be frozen. He didn't seem to notice because he must have thought picking up candy and putting it in the bag was a game as it completely occupied him.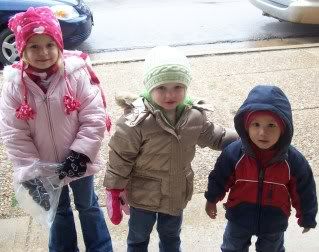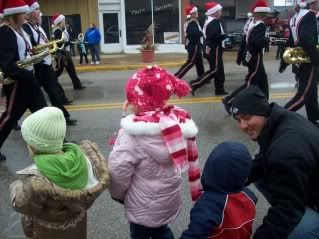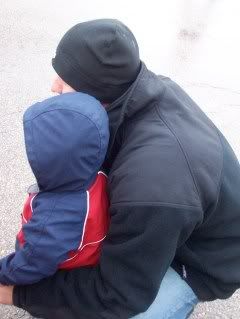 Yesterday, I was able to spend some time with my college roomate,
Kristin and her daughter Elise
.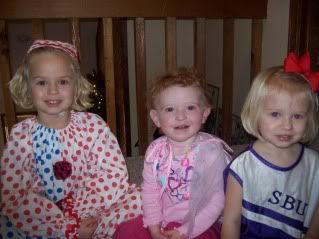 Jaidyn and Addy always raid Nana's dress-up clothes closet (clown and cheerleader outfits) and also dressed Elise up with a little pink cape.
It was so nice to spend time with the two of them. And I am so glad to see that Elise is doing so well. Her family is currently living in Florida so it may be several years before we are able to get together again. We had planned that we would live with our backyards connecting after college so our kids could grow-up and play together, but it just quite hasn't worked out that way yet. :)