I am constantly amazed at how many people we have met since we started the adoption process. We had hoped to gain friendships from fellow adoptive families once we started the process, but didn't expect it so soon. When we first were contacted by Holt, they gave us the name and email address of the Richardson family in
Richland
(keep in mind, this is a town of 1800 people) who have adopted two children from Korea through their agency. We were so excited to have another couple in our same town who had experienced this process. At this time, we still hadn't chose Holt as our agency or chose which country we would adopt from. In fact, we were still coming to the realization that this was God's plan for our family. I emailed Rick and Cheryl and told them a little about our family and how we think that adoption is the route we want to follow to build our family. Cheryl emailed me back and it felt as if we had been friends for years. She immediately welcomed all of my questions. I loved the pictures that she sent me of Emily and Cole. She too, had used a Santa Claus theme for their pictures. Our last pictures of the girls were for our Christmas cards and they both were in little Santa dresses. I also loved the picture of Cole that they received as a referral picture. His hair was standing straight up. So cute! I was so nervous about sending an email to someone who I didn't know, but all that fear went away once I heard back from her. The Richardson family is absolutely amazing. Rick and Cheryl are fantastic and they have so much love for their both of their children, Emily and Cole. Cheryl and I continued to correspond through email and decided that our families should meet.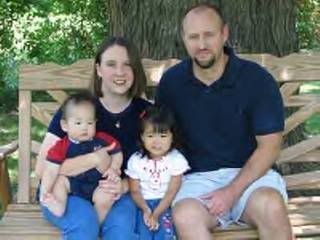 The Richardson Family
Rick and Cheryl came over for a
barbecue
one evening. Wow, what a beautiful family. We spent the entire evening talking about adoption. I loved that their family was so "normal" and "real". Both of them were so open about their adoption process and why they chose international adoption. Listening to their story made Wes and I realize that the fears that we had about adoption were many of the same fears that we had experienced with Jaidyn and Addy. There are no guarantees with any children.
I do want to add that Cheryl caused me to gain 5 pounds within a week. She brought over an entire dish of cookies that night and she insisted on leaving them at our house. And everyone who knows me well, knows that I have no willpower when it comes to CHOCOLATE. So what is a girl to do but eat them...all of them. :) I have forgiven her, but she is no longer allowed to bring cookies ever again.
Jaidyn
and Emily (3) paired up immediately. I think they played with every toy that we might possibly own. Cole and Addy clung to their mommy's the entire evening which was probably a good thing because I am not sure Jaidyn and Emily would have welcomed them in to their newly acquired friendship.
Later that evening, Jaidyn asked me when she and Addy would get to play with Emily and Cole"d" next. It cracked me up how she added a "D" to the end of his name. She was so proud of her new friendships.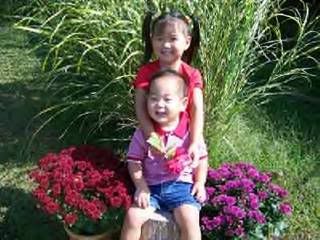 Emily & Cole
We have since had a few
play dates
. We met at the park one day, but got caught in a thunderstorm and spent most of the time underneath the
pavilion
. I think the storm was their favorite part as the
pavilion
flooded and the kids enjoyed puddle jumping. Rick and Cheryl also had us out for Mexican food one night. Yum, my favorite! She made a fantastic taco salad that put any of my burnt
enchilada
meals to shame. She shared the recipe with me, but I have lost it, so this reminds me that I need to get it from her again. :) They also had the girls and I out to swim one afternoon. It was a nice, relaxing day.
We have been so fortunate to have met Rick and Cheryl. They are an amazing couple and we are so glad that through the miracle of adoption we have crossed paths and our lives have been brought together. They have been so great to share all of our adoption moments with. We hope that our families will be able to celebrate many more wonderful moments together.