Lately I have been doing quite a bit of research about the Philippines. I have become a member of a Yahoo Philippines adoption group and even though the posts are hard for me to follow at times, because I think so many of them have been members for quite some time, I am learning a little bit about the city of Manila as this is where we will be traveling to in the future when we meet our child. I also happened to stumble upon this website link that gives travel advice for the Philippines. This information is current as of today. All I can say is YIKES!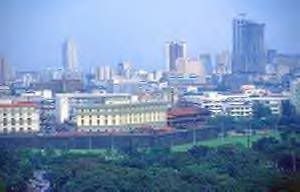 City of Manila
Here is a small summary...
We advise you to exercise a high degree of caution in the Philippines because of the high threat of terrorist attack. We continue to receive credible reports that terrorists are planning attacks against a range of targets, including places frequented by foreigners. Some reports suggest that terrorists could target sites in Metro Manila and Mindanao including the Sulu Archipelago. If you do decide to travel, you should exercise extreme vigilance when you are in the Philippines.
http://www.smartraveller.gov.au/zw-cgi/view/Advice/Philippines
We will definitely be using a KBF staff assistance throughout our stay. I haven't heard any horror stories yet, but will definitely take precautions when we travel. I am sure Wes aka Rambo will have everything covered.