Steven Curtis Chapman and his wife Mary Beth founded the
Shaohannah's Hope
foundation. This foundation helps many families experience the miracle of adoption by providing grants that help reduce the financial barriers that many families face when adopting. Steven Curtis Chapman is a Christian singer and songwriter. He is a father to 6 children, 3 of whom are little girls adopted from China. Nearly 15 years ago when I was in Jr. High I went with my FCA group to Springfield and had the opportunity to experience one of his concerts. In fact, it was the only concert that I attended until I met Wes.
He recently wrote a song about his little girls titled
Cinderella
for his new album, This Moment. I absolutely love it! It reminds me so much of Jaidyn and Addy. They pull out their princess dresses spinning and dancing to whatever song is currently playing on TV or their Leap Frog Kareoke toy while begging Wes and I to twirl around the room with them. Each and every day they become more beautiful (can they possibly become anymore beautiful than they already are) and more grown-up. They continue to constantly amaze me. As I watch them, I can't help but dread the thought that one night "the clock will strike midnight". This song is a reminder to me to cherish each and every moment with our children.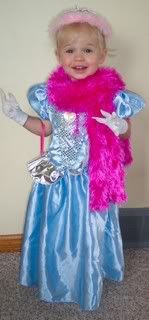 Listen to the song here.
Here are the lyrics to Cinderella from Chapman's CD, This Moment.
She spins and she sways to whatever song plays
Without a care in the world
And I'm sitting wearing the weight of the world on my shoulders
It's been a long day and there's still work to do
She's pulling at me saying "Dad I need you!
There's a ball at the castle and I've been invited and I need to practice my dancin'
"Oh please, Daddy, please!"
Chorus:
So I dance with Cinderella
While she is here in my arms
'Cause I know something the prince never knew
Oh I will dance with Cinderella
I don't want to miss even one song
'Cause all too soon the clock will strike midnight
And she'll be gone
Verse 2:
She says he's a nice guy and I'd be impressed
She wants to know if I approve of the dress
She says, "Dad the prom is just one week away
And I need to practice my dancin'
"Oh please, Daddy, please!"
Chorus:
So I dance with Cinderella
While she is here in my arms
'Cause I know something the prince never knew
Oh I will dance with Cinderella
I don't want to miss even one song
'Cause all too soon the clock will strike midnight
And she'll be gone
Verse 3:
But she came home today with a ring on her hand
Just glowin' and tellin' us all they had planned
She says, "Dad the wedding's still six months away but I need to practice my dancin'
"Oh please, Daddy, please!"
Chorus:
So I dance with Cinderella
While she is here in my arms
'Cause I know something the prince never knew
Oh I will dance with Cinderella
I don't want to miss even one song
'Cause all too soon the clock will strike midnight
And she'll, she'll be gone