I just received an email from our agency with some general updated program information.
Wait for Match: Right now, time frames are currently lower than they have been previously. For the last 5 matches we have received, families waited an average of 13.5 months from Dossier Approval to Match! We hope that this continues to be the case.
If 13.5 months is the average then it looks like we will receive a referral sometime early into the year 2009. I am still hopeful for an early Christmas present. :)
Match to Arrival: Average wait time from match to arrival home with your child is 5.5 months.
I think this will be the hardest wait we will endure. Five months is a long time to know that your child is a half-way across the globe without you. Hopefully we will meet some families who will travel before us and get to meet our child and take some things over with them or send us back some more pictures.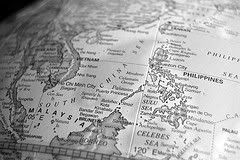 Orphanage Information: When you are matched, I recommend for you to look online to get more information about where your child is living. There are currently over 35 child-caring agencies in the Philippines that we are able to get referral from, and each is very different. Many of the them have websites, and this is a great way to learn about the care givers of your child, and the surroundings they are in. However, please remember that direct contact with the oversea agencies is in violation of the IASA, so please do not contact any of them. It is just a valuable resource for you to gain info from.