This past weekend the girls and I headed to St. Louis for what I thought was going to be a nice, relaxing low key weekend. It was very nice, but I think low key would be an understatement. On Saturday evening, I was able to visit my friends Jason and Kristin and their
baby girl Elise
at Children's Mercy Hospital. It was such an honor to get to finally meet Elise. She is a beautiful, strong baby girl. Jill agreed to watch the girls so that I could enjoy this visit with them. Since the hospital was close to Forest Park and the St. Louis Zoo, Jill took the girls to the zoo and then had a picnic with them in the park afterwards. We later met up and all of us ate at a Mexican restaurant. Jason and Kristin got to see first hand what it is like to eat out with a 2 year old. Addy was at her best (not sitting in her seat, landing more rice in the seat/floor than in her mouth, and using her favorite word "NO!". Here are some pictures of the girls at the zoo.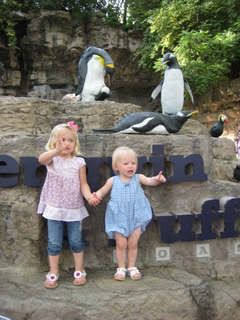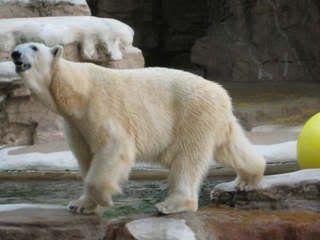 Jaidyn took this picture. It hasn't even been cropped. Pretty good job for a 3 year old.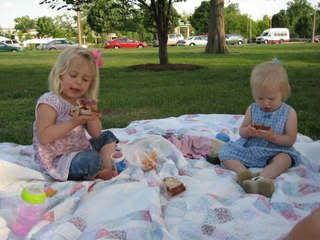 Jaidyn and Addy have refused to eat peanut butter and jelly for me, but Aunt Jill has worked her magic as they seem to be having no problems downing these pb&j's.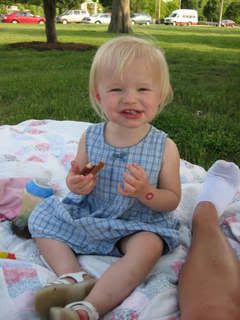 On Sunday morning, Aunt Charlene and Aunt Cheryl were going to watch the girls for Jill and I so we could go to
Castlewood Park
to run and ride the trails as a workout to prepare for the upcoming adventure race that we will both be competing in at the end of this month. Late Saturday night they called to tell us that they had received some last minute, once in a lifetime tickets to the St. Louis Cardinals game and wanted to take both Jaidyn and Addy. We were to meet up with them as soon as we could after our workout. The tickets were for 4 rows behind home plate with free food and drinks. If I am lucky enough to attend a game it has always been way up in the nose bleed section and that was at least 3 years ago. Of course I didn't have anything red for the girls to wear to the game, but Charlene and Cheryl took care of that problem and took them shopping before the game. Jaidyn got a cute pink Cardinals baseball shirt and short set with a baseball cap and Addy had a red, blue, and white striped romper and a hat. This game was heaven...beautiful weather, great company, yummy free food, cold drinks, and the Cardinals won the game on a great hit in the ninth inning (which I missed because I was changing Addy's diaper).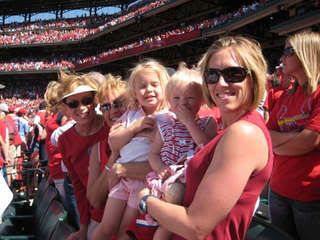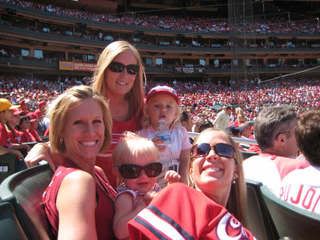 Jaidyn and Addy both loved Fred Bird. Addy wouldn't get close enough for a picture, but did seem to like him at a distance.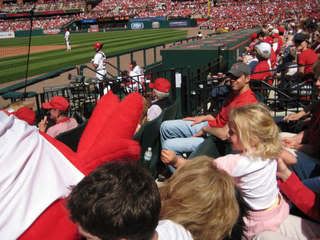 Fred Bird kept shaking his booty in people's faces. Jaidyn kept trying to grab his tail feathers and pinch his booty. She is so funny and she doesn't have an ounce of shyness in her little body.
I had planned to drive back home Sunday evening, but after working out that morning and spending the afternoon in the sun at the Cardinals game I decided to stay at Jill's one more night. She also had the movie
27 Dresses
that I have been wanting to see (this isn't one that Wes would care to sit through) and the season finale of Desperate Housewives was on.
A HUGE thank you to all the Aunts for royally spoiling the girls during our weekend stay.