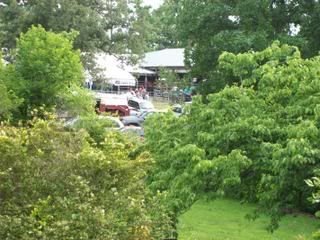 Every summer we have the luxury of having the Tri-County Fair right outside our backyard. The picture above is of the animal barn that is taken from our deck. Everyone always asks us if we are glad when that week is over since we have no choice in being involved in the activity. Truth be told, it is one of my favorite weeks in the summer since we have moved here. We have the best parking spot all week long. From our deck we constantly hear the mooing of the steers, the baa-baaing of the sheep and the high squeals of the hogs. Once the evening sets in and the carnival rides gear up we can hear the screams in the distance as kids are spun endlessly on the scrambler. On breezy days we can smell the hamburgers and hotdogs being cooked by the Beef Association. The overpriced rides, tons of junk food, and pens of animals stinking in the heat is all part of the magic that the fair brings. For a few days each year the fair lays upon us the guilt-free sensation that we can induldge in deep fried onion blooms or ribbon fries along with cotton candy and icecream. Although very tempting, you all will be glad to know that we didn't induldge in any of those foods. Simple hotdogs and hamburgers suited us for an evening. This year Wes was gone on a work trip so the girls and I enjoyed a couple of days of it on our own. On the opening day they have kids day at the park with lots of activities...bubble pool, wash-off tatoos, corn pit, leather bracelet making, and a jump tent. We had friends join us for this activity day and the kids love it. The best part about it is that it is all Free. In the evenings the girls and I spent a couple of hours visiting the animals in the barn and playing at the playground. We spent one afternoon watching several rounds of the hog show. I really had no idea what truly goes in to taking the title of the Grand Champion Hog. Except for being different in color, in my opinion they all looked alike. Earlier that afternoon, Jaidyn and Addy were also fascinated by several people sheering their sheep getting it ready to show. Here a a few pictures of the girls pretending to practice the technique on the dogs. They were cracking me up at how seriously they were taking this.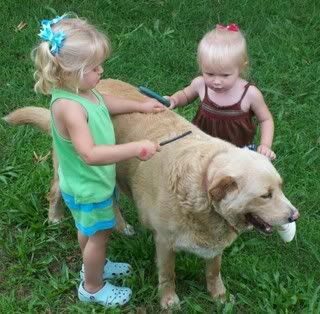 From what my parents have told us about their hometown fair in Owensville growing up, this fair is a far cry from the amazing attractions that county fairs used to be, but in Jaidyn and Addy's eyes having one in our backyard is spectacular.
I am editing this post to add some more photos of the kids day activities. These photos are courtesy of Rick and Cheryl Richardson.