Spring's a-comin' and I want to share with you the latest trends in little girl wear. Almost everyday a new outfit emerges from the dress-up boxes in their closet. Each outfit is perfectly accessorized with hats and jewels. New for 2009, these are the must-have glitz-es and glamours and are so appropriate for various party events around the internet (not sure I would let them out of the house in these outfits except for maybe Halloween).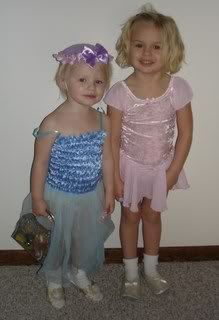 Darling ballet style dresses look great paired with bobby socks and high heeled shoes.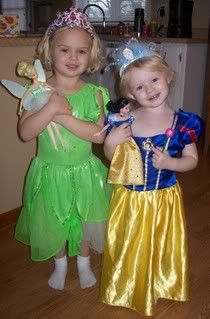 It is important to have a dress attire that matches the Barbie dolls. Every princess dress needs to be accessorized with a plastic, 100% cubic zirconium jeweled crown.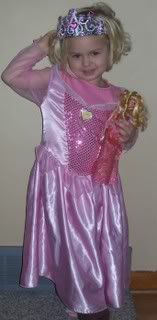 While pastels in general, seem to be on the out this season, this beautiful sheer sleeved gown is still a show stopper.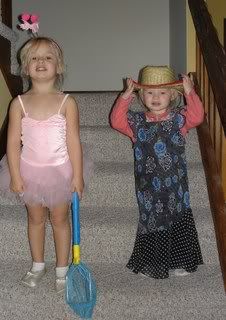 Jaidyn is all ready for a butterfly catching adventure dressed in a pink skirted tutu dress and white satin slippers. The added antennas headband helps disguise her amongst her winged friends out in the wild.
Sometimes beautiful fashions can be found in Nana's closet. Addy brings youth back to this senior citizen dress by adding a cowgirl hat.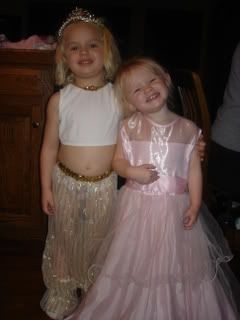 Apparently the genie in a bottle has escaped! With see-through pants, this outfit is perfect for letting in the nice, summer sun. Unfortunately, this line of clothing doesn't protect you from harmful UV rays, so wear sunscreen.
Not to be outdone by her sisiter, Addy is sporting a darling pink ball gown and is ready for a dance partner. Any takers?
I bet you all are wondering where you could buy all of these great fashions for your little princesses. You don't have to break the bank to refresh their look. This season's hottest trends were found at dollar stores, garage sales, and for free in Nana's closet.