Levi has found that he can climb about anything to get what he wants. He either pushes his little yellow chair, my rolling desk chair or turns my post office box or laundry basket upside down to climb up on something. Tonight, I secretly watched him climb up on the dining room table.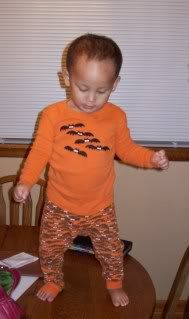 Wow! This is a little higher than the usual chairs that I climb up.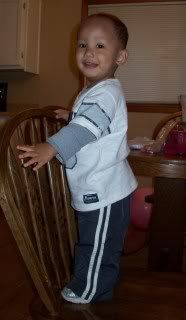 My mom took the 3 kids to eat and play at McDonald's earlier this week and she said that Levi just couldn't get his 2nd leg up on the first stair to go up in the tunnels and slides and she said she wasn't about to help him out in his efforts either for fear that he might get stuck up there. She definitely didn't want to have any part in that sort of rescue mission. :)
Finally, after being cooped up inside for several days because of cold rainy weather we had a chance to get outside today for a stroller walk and sit outside on our deck while dinner was cooking.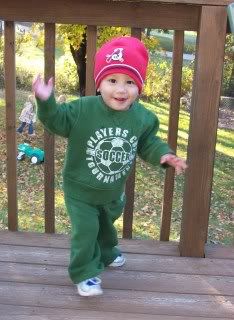 Levi is thinking he is pretty studly in his new Cardinal's Baseball beanie. It's a bummer the Cardinals choked in the playoffs.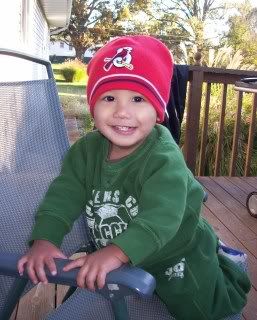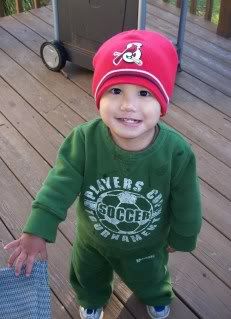 These pictures were taken shortly after we had to hold him down and pull a huge splinter out of his hand from climbing down the deck stairs. Notice the snot from his nose and tears on his sweatshirt. Poor little guy!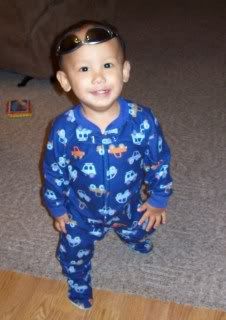 He put the sunglasses on all by himself (upside down).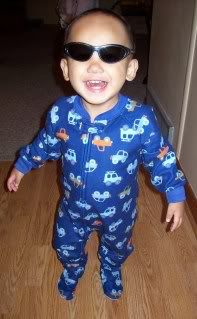 Cool dude!
On Saturday we spent the good part of the morning waiting in line at the doctor's office to get our seasonal flu shot. They had a Flu Shot clinic and we showed up only an hour after they started and yet our kids were the last young ones to receive the child based shot as they were then out. I am not sure what we would have done if they weren't able to get one as I know that the health department was out of them also. The bad part is they could only give Addy and Levi a half dose because of their age, so they have to return in a month to get the 2nd portion. Grrr, as if the 1st one isn't bad enough for a little one.
Tomorrow, after preschool, my mom and I are going to take the kids to Ha Ha Tonka state park. With the leaves turning and a day in the upper 60's it should be a perfect day for trail walking. I am looking forward to it.