So yes, I have been missing in action as far as the blog is concerned. We have been so busy and at times I almost feel like a duck on the water...calm & collected from the outside, but paddling like hell to stay afloat. Everything is going well, so no complaints, but it just never seems that there is never enough time in a day and my house would definitely show that. A tornado hasn't hit it, but it sure looks like it sometimes.
Last weekend the kids and I took a trip to visit my sister. On the way, we stopped to let both sets of my grandparents (Levi's great-grandparents) meet Levi.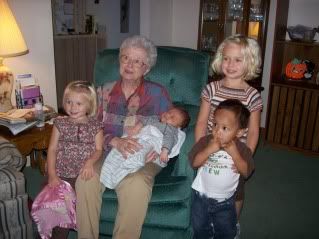 Hmmm, Levi looks busy with his nose. We also got to meet Steel another new addition to our family. He was born the day before Levi's gotcha day.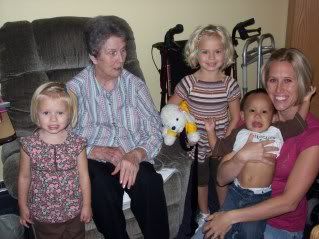 I think Grandma enjoyed parading around the nursing home with her great-grandchildren. They also found her Butterfinger candy bar stash. Levi kept going back to the pumpkin basket for more.
After visiting for several hours we went to my sister's volleyball game. While we enjoyed watching them play we were glad they won in 2 games and it didn't go 3 as we were all starving and Levi was tired of being confined to the bleachers.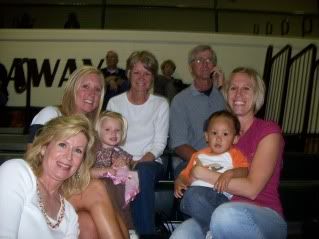 The next day my sister treated the kids and I to an afternoon at the pumpkin patch. I love these types of places and look forward to the fall season for this reason. Levi enjoyed it, but it was right during his nap time and I think he was just trying to stay awake through it all.
Snow Angel in the corn pit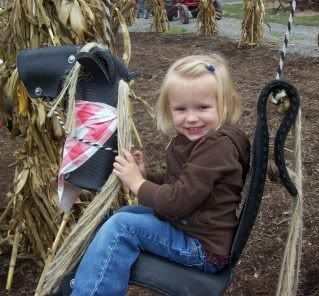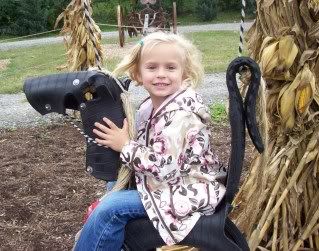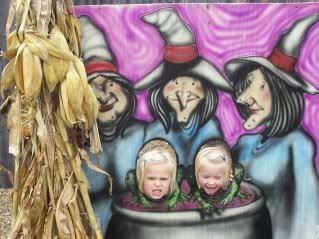 The "special" ingredient's for a witch's brew.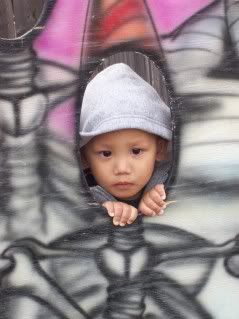 Peeking through.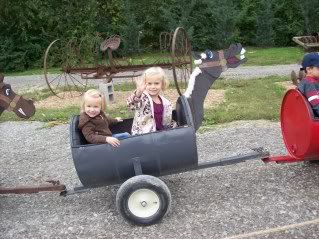 Train ride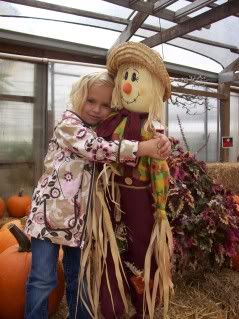 I also went to a Cardinal's game with the guys (My dad, brother & uncle). My mom, sister, aunts and cousins all came to my sister's house for a night of Mexican food and margaritas, but sent me with the guys so that they would have the kids all to themselves. Levi is great with others, but if I am around, I am his 1st choice. So they all plotted against me to get rid of me for the evening. :)
Everyone hanging out at Jill's house.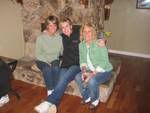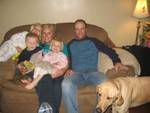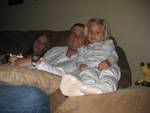 On Saturday before heading home we went to Grant's Farm. After getting attacked by the baby goats last year, they knew what they were up against this year. Small and cute, but vicious when it comes to a bottle of milk. After a few minutes of being surrounded by goats they decided to stay outside the fence and feed them. I made a big mistake by handing Levi the bottle and it went straight to his mouth. He spit it out immediately...I am not sure if it is a powdered formula milk or if it was actual goat milk. Disgusting!
Tram ride through Grant's Farm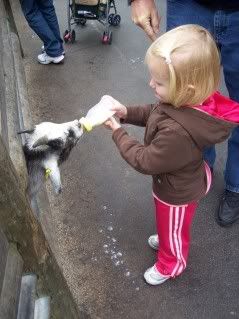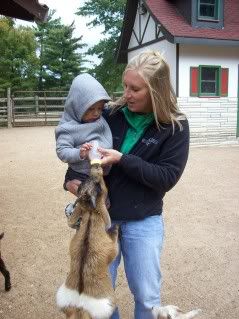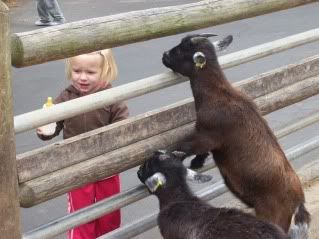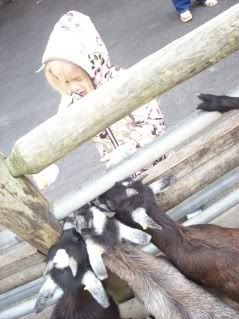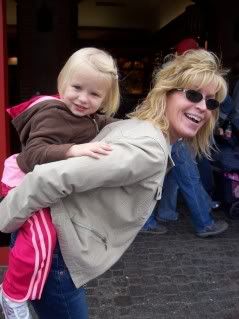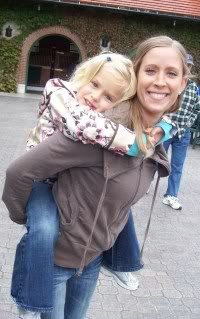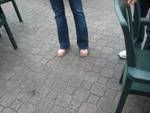 We teased my Aunt Charlene about wearing sandals when it was sub artic temperatures outside, so I had to include a picture of her wearing her sandals. She was a good sport despite all of our teasing. :)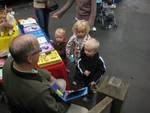 An author was on site reading books to the kids as they excited the farm. We have 3 copies of his "I don't want to kiss a Llama" book, one for each kid. It is a really cute book.
Sunday evening Papa J.R. and Mama Lala treated us to dinner at Applebee's and gave the kids each these darling Halloween shirts. Aren't they cute?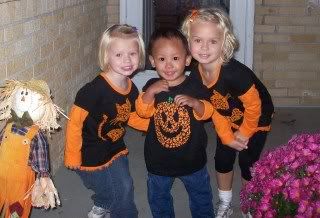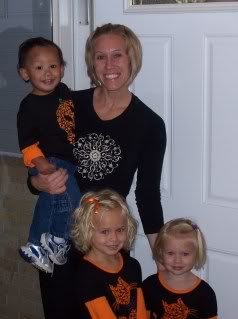 Heading out the door to preschool.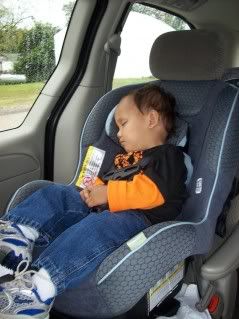 Poor guy! Levi had to get 5 separate shots. I felt so bad for him as I held him down while the nurse administered each one. He fell asleep immediately when I put him in the car seat. Hopefully, the tylenol that I gave him kicked in. He is now caught up on his immunizations, but still needs a flu shot which I will probably schedule for all the kids along with Wes and I this week.
We also had family pictures taken this past week and I think we captured some great shots. I can't wait to get the proofs back and then order a new family picture for fireplace mantel. The family of 4 that we currently have in the frame is definitely going to be replaced.
Wes has been busy as he started working in a new county. He is also working the MU football games on an off day, so he has been busy working a lot. Thankfully, he hasn't had to work until 8:00am this past week, and has been wonderful help in getting the kids around so that we can leave for preschool by 7:30.
I have actually started running a little again. I really need to make a little time for myself as I feel so much better when I get a little exercise in each week. Since we have brought Levi home, my workouts have been non-existant. Hopefully, I will continue to get some runs in each week, but as the weather gets colder it gets harder. I really hate cold weather.
Monday we have our first post-placement visit and honestly I am excited about our social worker coming for a visit. I can't wait to show off Levi. He is doing very well. I still need to finish our questionaire packet (hand got cramped from writing last night) and get a few more pictures developed for the meeting.
Hope everyone enjoys the rest of the weekend.