I normally don't push charity organizations on to others as I think everyone has a personal preference and heart for all kinds of missions and chairities throughout the world. However, this week is National Collection Week, November 17-24, for
Operation Christmas Child
and it is one of my favorite charitable organizations. Through gift-filled shoeboxes and the good news of God's love, OCC brings happiness and hope to children around the world in desperate situations. Our family has been collecting items all through the year to fill several shoeboxes for this organization. Exra school supplies were purchased during the back-to-school month sales and I was able to get great deals on toiletries through shopping at Walgreens. Jaidyn has helped in this endeavor as she picked out many small toy items to fill up the boxes. We have filled 5, one for each memeber of our family (of course we are counting the child that we are hoping to receive a referral for in the near future). Last week, Jaidyn helped me fill the boxes and wrap them. It's a good thing that all of the items in the boxes had to be new, as a soon-to-be 4 year old she isn't very good about giving up any of her own toys. She did want some of the items being packed, but after explaining to her that they were going to children who may not have any toys, she was able to part with them. Even though she has a hard time understanding that not all children has what she has, she has a huge giving spirit.
Today Jaidyn helped write a
letter
to place in each of the shoeboxes. I loved her answers as they were so honest. She colored in the state of Missouri on the map and attached a picture of both she and Addy. We included her address, so maybe she will even get a return letter from the recipient of the shoebox.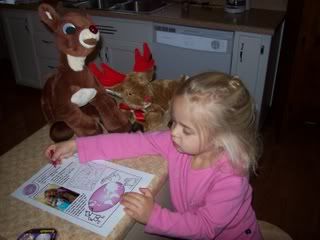 As many of you know, the Philippines is heavy on our hearts. Here is how Operation Christmas Child is impacting children in the Philippines.
Operation Christmas Child - Philippines
Jaidyn's boxes may help a neighbor child and then again they may just go the distance. Where ever they end up, hopefully they will give a few children a glimpse of hope and love this holiday season.