Finally I have had a chance to post some pictures of Easter weekend and the days leading up to it. It has been a very busy week (as if all of them aren't super busy).
Jaidyn and Addy had lots of fun with some of their friends at the Library Easter Egg Hunt. The even got to meet the Easter Bunny. (Jaidyn asked me after Easter was over how come they never got to meet the REAL Easter Bunny and only the FAKE ones.) The weather was cold and the ground was wet from the night before so the egg hunt was indoors.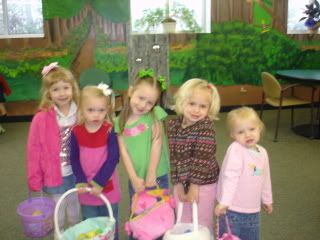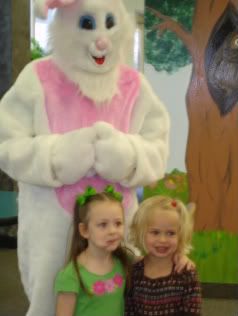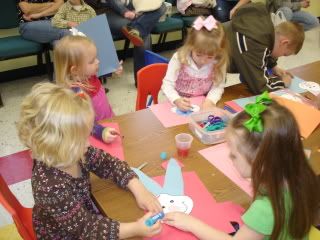 Addy acting like she doesn't know how to use scissors. I know from a haircut that she gave me a couple of weeks ago that she does indeed know how to use them.
We tie-dyed the eggs at Nana's house. Jaidyn was very proud of her egg that looked like "the earth". We ended up eating it first as she cracked it while showing it off. Next year I am wearing gloves as I had stained finger tips for a couple of days from holding the kleenex over Addy's eggs while she poured different colors of dye over them.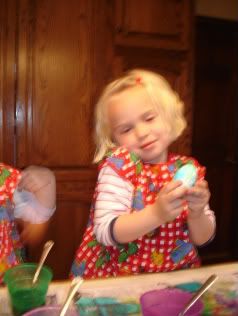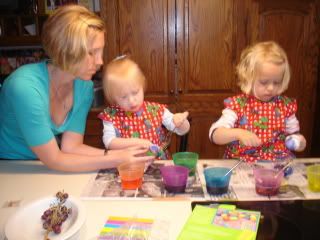 The Easter Bunny visited our house the day before Easter. I think he knows that our schedule on Sunday morning is very hectic so he decided to help us out by visiting a day early.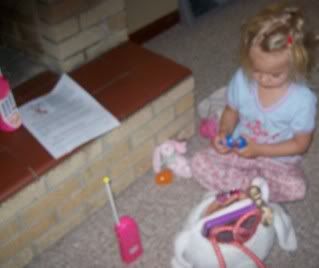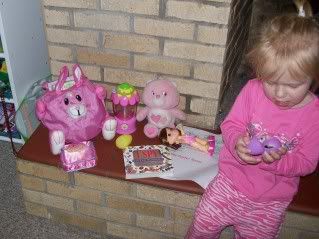 Can you tell the girls are a little groggy? They were up all night with a horrible cough. Poor girls! I think Jaidyn's cheeks are still rosy red in this picture.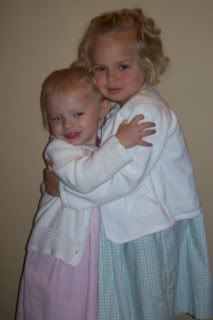 Don't think that they voluntarily posed like this, I had to ask them to do this. :)
Wes was the switch-over car so he worked until the wee hours in the morning and then had to work early today in the afternoon and didn't get to participate in the Easter Sunday activities with us. I did make him get up for a minute to take this picture of the girls and I before we headed to church.
Easter egg hunt at Grandma Velma's house. Next year I am bringing bunny ears along for Aunt Cheryl. She plays a great Easter bunny!