Today's temperatures are supposed to reach almost 70 degrees, but it sure didn't start out that way. Wes and I ran in the Mercy Me Hospital 5K run this morning. I only had a heavy jacket over my tank top, so I made him take off his long sleeve shirt and let me wear it. My mom thought that she missed getting pictures of me as she saw Wes running, but didn't know that I had put on his shirt and was right beside him. In fact, Jaidyn and Addy were yelling at some other girl who they thought was me to hurry up and catch daddy. We ran together the entire time until right at the end, when he had a lot more juice left than I did. We don't have our official times yet, but Wes finished right at 25 minutes and I was about 10 seconds behind him. We had set a goal of trying to finish in 26-27 minutes so I am pretty proud of our times...not to shabby.
ETA: Here is the link to the race results. We are thrilled with our performances!
http://www.ridgerunnersports.com/race/2009MERCYME.HTM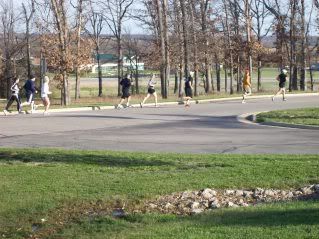 That's me in the gray shirt chasing Wes up the hospital hill at the start of the run.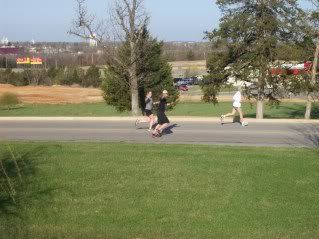 Waving at the girls and Nana as we passed by.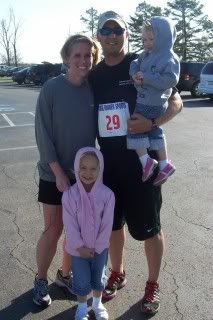 Yea, we are done!
I loved the way the annual Easter egg hunt at the park was ran. After every kid had a chance to scramble after eggs, they took them to a table where they turned them in for special prizes. It didn't matter how many eggs they actually picked up as every child received the same prizes. Addy's age group received candy, an egg-shaped water bottle, and a stuffed animal. Jaidyn's age group received candy, bubbles, and sidewalk chalk. We had two extremely happy girls after the egg hunt. I am glad it was run this way because there was this one mom in particular that had a baby that was maybe 1 year old that was in the carrying-age 3 group. The mom was carrying the baby and at the same time scurrying around in front of all the other kids picking up eggs just as fast as she could. Her poor child's head was being slung in every direction and she was darting up and down so fast for as many eggs as she could gather. I would have normally felt sorry for her as every time she bent down her booty showed, but honestly I felt like she kind of deserved it. It was quite the scene and I almost lost track of Addy because I was so appalled by her actions. I mean, seriously...did she honestly think that she was being competitive up against children who are under the age of 3?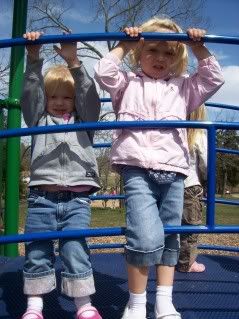 Playing at the park while waiting for the egg hunt to begin.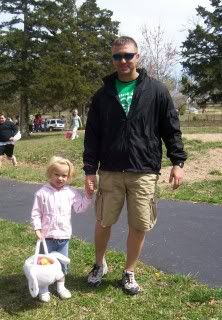 You should have seen her look at the starting line. She is soooo competitive and her serious facial expressions were so funny. Thankfully, she picked up enough eggs to satisfy herself and she came away happy.