This morning, we received our approval of the I-171 Visa Petition form. Yea! Our agency said that this would take anywhere from 2 weeks to 2 months. The shortest amount of time they have ever had anyone receive this notice was in 12 days. We received ours in 10 days. Thank you to the USCIS offic in Kansas City for processing our visa application form so quickly. We will now follow up with NVC which is the office that receives our file from the USCIS field office. They will be forwarding our information to the appropriate embassies.
To anyone, who has been to this stage before...how long was your wait from this point until you were given permission to travel?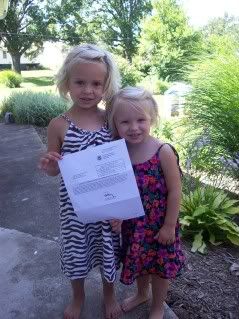 If only they knew how exciting is was to be holding this piece of paper. They are really having a hard time understanding why every time we hop in to the car to go get groceries, etc. that we just can't pick up their brother on the way.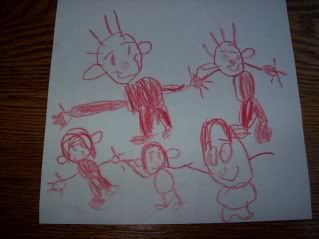 For part of the library summer reading program, Jaidyn had to draw a picture of our family.
I just have to share pictures of our Day Lilies. Last summer, I bought several starts to Day Lilies from a garage sale. This lady had a photo album with all the different varieties she had. She was insanely organized with her Day Lilies. We are completely enjoying all of them this summer. Here is a view of the flowers from our deck. Too bad they only last for a day and I can't really bring them inside to put in a vase.