Last Friday evening Jaidyn had her first t-ball game. It was crazy chaos, but she had a great time. She is quite competitive and will rumble with the boys if they even think about snagging a ball that she is close to. Don't let her pink bat and purple glove fool you. At practice, they hit five balls before they run to first base, so in the game after she hit her first ball, she just stood there thinking she had 4 more hits and the coaches had to yell, "run". Once she made her way to third base, instead of running to home plate, she ran right on over to the dugout. She also knew we were taking pictures and running the video camera everytime she was up to bat, so she would take some time to pose in front of the fence before walking up to bat. She is too funny!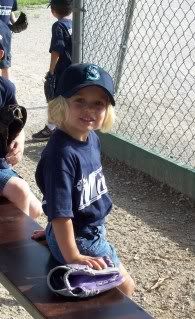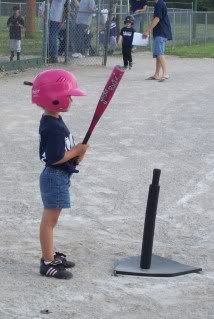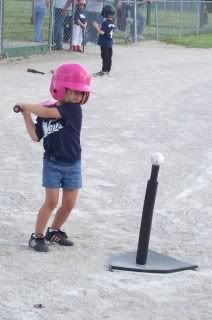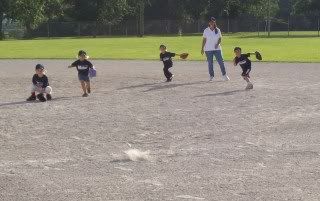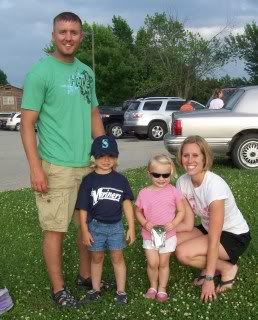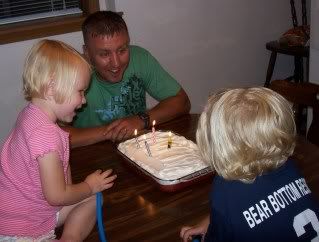 Wes turned the big 3-0 on Friday so we had lots to celebrate this weekend. We all spent the weekend at the Lake with my parents, Grandma Penny, Jared, and Cyndia. Jaidyn and Addy helped Grandma Penny make him a Strawberry Jello cake and my mom made him a Pineapple upside down cake. Yummy! I don't think we have eaten this much cake in several months time. Definitely a treat!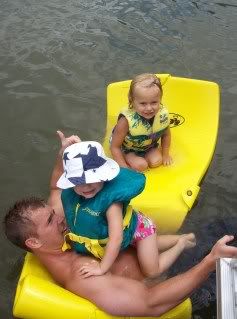 Uncle Jared is always a trooper when it comes to getting in the lake water. Jaidyn has been in the water the past 2 weekends with him. Addy joined in this weekend. I personally like the lake to feel like bath water before I spend much time in it.
The girls are in their 2nd week of swim lessons. Jaidyn told me that she got to jump off the diving board today. The swim lessons have been great and they have gained so much confidence in swimming in the lake water, especially Addy.
We are still waiting to receive Levi's legal papers so we can apply for his visa. Hopefully, we will receive them this week. I can't believe it has already been 1 month since we received our referral. Honestly, we have been so busy that this past month has flown by. If our summer life pace keeps up this way, we will be on a plane to the Philippines before we know it.
Wes and I are celebrating our 7th wedding anniversary today. Actually we celebrated it this past weekend along with our birthdays. Today has been catch-up day...laundry, catching up on online work, and tending to the garden that had lettuce that needed to be cut several days ago. Happy Anniversary Honey! :)