The girls and I are back from our 2 1/2 day mini vacation to St. Louis. Yesterday afternoon, I was exhausted and took a 2 1/2 hour nap trying to recover from our activity filled trip. Addy had been given money for her birthday to use towards "doing" things this summer as a family. We went to Big Surf last weekend and used the remainder of her activity b-day money to visit the STL Science Center and The Magic House (Children's Museum).
Thank you Jill for letting us stay at your home. Thank you to everyone who spent time with us over the weekend...Papa, Nana, Jill, Jessica, Aunt Charlene, Aunt Cheryl and Uncle John.
Thursday:
Spent afternoon at St. Louis Science Center & watched Jill play a sand volleyball game that night. Addy and Jaidyn spent the entire time in the sand box. Good thing we rode in Papa and Nana's car. :)
Friday:
Jill and I took Jaidyn and Addy during the morning hours to the Waplehorse Aquatic Center. I can't think of a better place to be on a 95 degree day. I think Addy must have slid down the slide at least 25 times. She would slide down and then run back up the stairs as fast as she could to go again. That afternoon we watched the movie, "He's Really Not Into You" and made the girls lie down for some rest time. The evening was spent with relatives eating and drinking refreshing drinks.
Saturday:
We spent all morning at the Magic House (3 hours was plenty of time although we only probably made it through 1/4 of building). It is such a neat place and I think it might be someplace that we try to visit every year. So many things to creatively explore.
Pictures from The Magic House, Children's Museum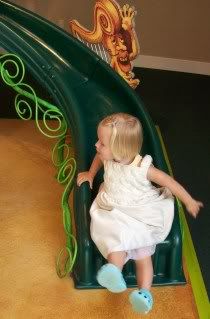 Addy sliding down Jack's beanstalk.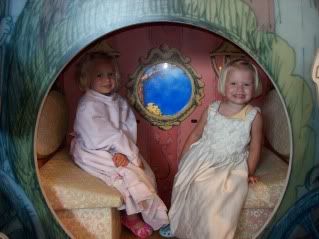 Dressed as Cinderella's and taking a ride in the carriage hoping to meet their handsome prince.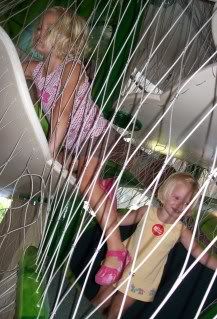 Climbing up vine leaves to the next floor. For some reason Jaidyn freaked out almost to the top and had to make her way back down. Addy climbed up all the way. This was surprising to us as usually it is the other way around.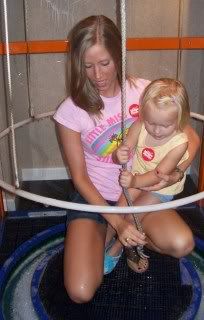 Jessica and Addy trying to make a bubble around their bodies.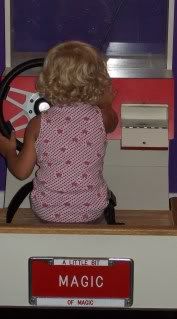 " A little big of MAGIC"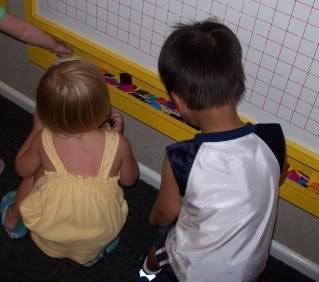 No, this isn't Addy and Levi, but hopefully soon we will have some pictures similair to this. I saw this little boy beside Addy and I couldn't help but think that soon all of my pictures will be including another little one.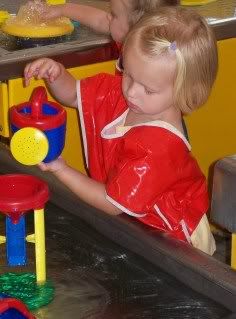 Addy at the water table.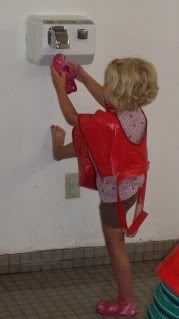 Jaidyn using the dryer to dry out her shoes. The floor was one big puddle and she wisened up a little when she stuck her foot up on the wall to keep dry while she dried out her shoe.
These are all pictures from the pre-tend play store. There was an entire section of a building set up like a mini-town.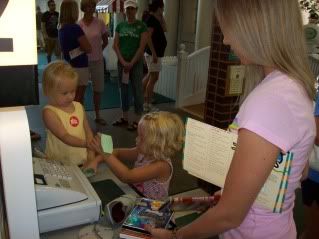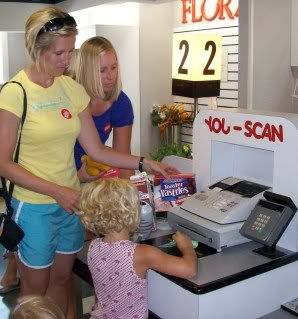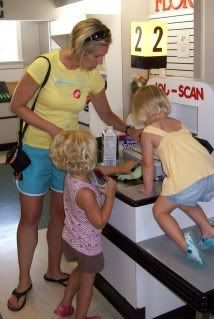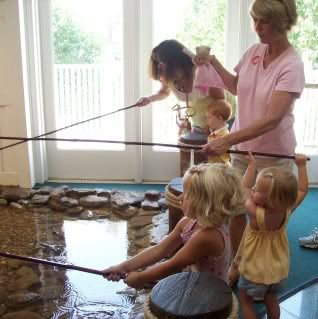 Trying to catch a magnetic fish in the stream.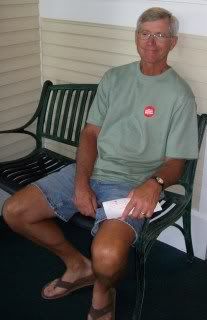 You can tell Papa is having a blast and wouldn't rather be anywhere else. At least he found a chair and is in the air conditioning...could be worse.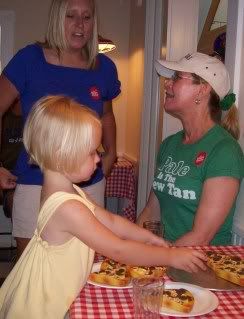 Addy serving it up in the Pizza Cafe. We were really hungry at this point and this pretend pizza didn't help our cravings.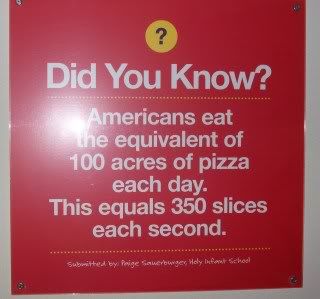 Hmmmm, I am thinking that our family contributes to this statistic several times weekly.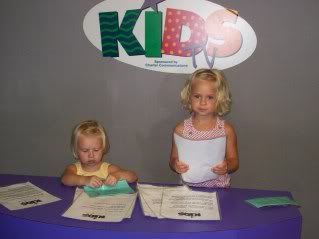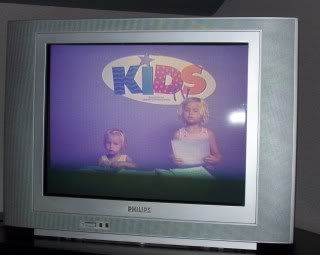 According to Jaidyn for Kids TV News, the upcoming weather forecast is "wet and stormy, so you will need an umbrella".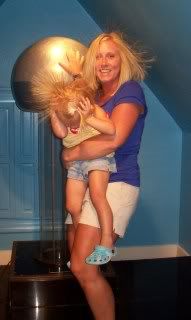 Addy didn't like the feeling of her hair standing straight up because of the electrostatic ball and was trying to hold it all down. She has thin straight hair, so her hair was perfect for this.
These are some pictures from the STL Science Center. The Discovery Room was our favorite. It was geared towards Jaidyn and Addy's age as much of the Science Center is geared toward older children and adults.