Halloween is my favorite holiday and I look forward to the 1st of October when I can officially put out all of my Halloween holiday decorations (sometimes I sneak them in the last week of September). The past few days I have been scavenging online websites for Fall and Halloween decoration ideas and came across
Emmie Cakes
with adorable banners. The Halloween banner kit was too cute and I couldn't help myself and had to purchase it. My package arrived earlier this week and I was so excited to receive something in the mail with my name on it besides a bill. This afternoon, while Wes and Addy napped, Jaidyn and I crafted.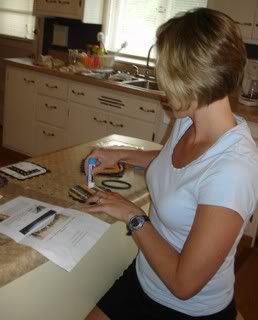 My sister Jill will be glad to know that all of the materials for the banner all came pre-cut in a kit. Anyone who has ever done scrapbooking with me knows that I can't cut a straight line. This is why I really need to upgrade to digital scrapbooking and then not being able to cut straight won't be a dilema. Thankfully, the kit came with a very detailed instruction sheet and all I had to do was glue, paper punch and tie to a string. Easy Peasy! :)
Jaidyn busily used my scrapbooking scraps to make a Gorilla...can't you tell.

Here is my finished banner and isn't it cute? Yes, I realize that it isn't centered on the mantel and that some of the ribbons need adjusted, but I will wait until the actual hanging in October to make all of the adjustments.