Thank you to those that have given Jaidyn and Addy Halloween treats this past week and who have sent Halloween cards. Mail today was extra special for them as they received several Halloween cards with some special treats inside.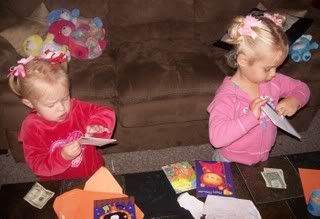 The money went in to their piggy banks, but only after they toted it around for several hours. Jaidyn did try and count her money in her piggy bank and is able to recognize the different coins. She came running to me with a dime in her hand and said that she had a diamond. I guess when we have been talking about coins, she thought I was saying "diamond" instead of "dime". I wish it would have been a diamond as she has a piggy bank full of them.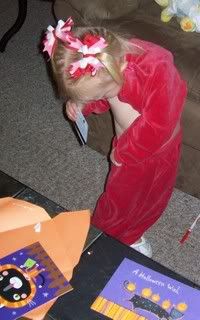 Addy is searching desperately for a pocket to stash her McDonald's gift card in. Unfortuneately these pants don't have pockets, so it is now somewhere in her pant leg or maybe in her underwear.