I have to admit, my mom made me feel somewhat guilty today. On the phone this morning she was trying to persuade me into bundling the girls up and taking them outside to go sledding. With the nice wintry ice mix we had overnight we had a perfect day to test out some slippery roads. I just hate cold weather...have I mentioned that I really, really hate cold weather? All day, I kept thinking that I should take them outside, but just the thought of dragging out their coats, boots, snowpants and gloves for probably only a 15 minute time period as I would be lucky to last that long had me keeping myself busy with household chores just so I could use the excuse that we just didn't have time. I even started working on our taxes paperwork. Not to mention that I would have another entire load of laundry to do after we came in with wet clothes.
Tonight around dinner time, we had a beautiful light snow. Check out the big fluffy snowflakes decorating our deck.
After dinner, I was browsing some of my favorite blogs and found the most genious idea for all of us that hate cold weather.
Amy of Mom Advice
shared her inside snow activity.

I laid out white towels to look like snow and then brought in tubs of the newly fallen snow from outside. The girls played for over an hour with their Littlest Pet Shop toys, spoons and measuring cups. They were quite the little chatter bugs as they laughed and played. They even put on their snow boots.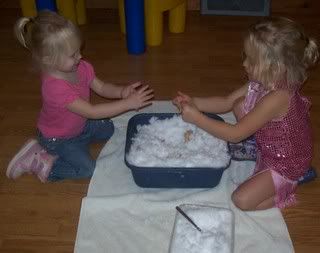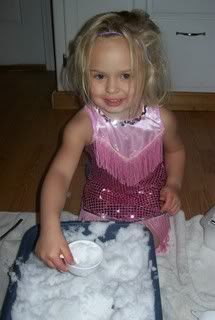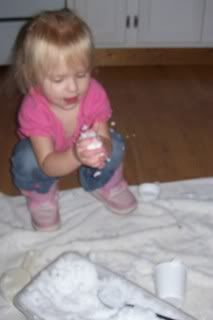 Jaidyn started out in her pink "cowgirl" dress-up outfit and boots and as time went on she stripped several articles of clothing as they got wet and before you know it she was only in her birthday suit. Who can honestly say that they have enjoyed snow in the buff. And at one time, I hear Addy yelling "snowball fight" and jump up in time to see her chucking a handfull of snow across the kitchen.
Tonight we had the best of both worlds. We stayed nice and toasty and still had some snow fun! Mom, I think that you would even be satisifed with this one. :)
Oh, and I just have to share this cute little picture of Addy "Annalise" (this is who she calls herself when she wears the pink dress) and her tea party this afternoon.