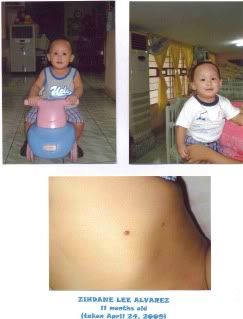 Isn't he perfect?
The lower picture is a picture of his Hemangioma. A hemangioma of infancy is a benign self involuting tumour of endothelial cells (the cells that line blood vessels). In most cases it appears during the first days or weeks of life and will have resolved at the latest by age 10.
I still can't believe that he is ours. After months of reading about other referrals and seeing pictures of their child(ren)and dreaming of when our day would come I still sometimes have to remind myself that he is actually ours. We have had his file reviewed by our family doctor and have officially accepted the referral. His report has so much information about his birth mother and father and we are so fortunate to know so much of his background early on in life. Now we have to wait to receive his legal documents. This usually takes 3-5 weeks. Once we have received these, we will be able to file our I-600. In the meantime, we will fill out our acceptance paperwork packet that we should receive in a couple of days.
We are going to change his name to Levi Jax. This is something that Wes and I have debated about for quite some time, but feel completely confident in choosing this name. In his referral report he was referred to as Lee as it is his middle name. So we just expanded on his middle name a little coming up with Levi. Our family has always liked the name Jaxon as Addy would have been given that name had she been a boy. Back when we started the process just over 2 years ago, Jaidyn would tell people that she was going to have a baby brother and his name was going to be Jaxson. We have compromised with her and have shortened it to Jax for his middle name. This name will be passed along to his caregivers so that they can start calling him his chosen name. His legal name will stay the same until the adoption is finalized, but we will still be able to call him by the name we have given to him.
On our end, we will stay on top of any paperwork that needs to be completed and hopefully the other parts of the process will go smoothly and we will have Levi home with us as soon as possible. Now, the really hard wait begins.