It is 9:00 pm on Sunday evening here in Missouri and it looks to be about 10:00 am Philippines time and I can't help but wonder if Levi is at is Medical appointment right now. I hope that everything was processed and Levi was able to proceed with his appoinment as scheduled. I pray that he is healthy and well. Hopefully we will hear something from our agency tomorrow. This waiting game is sooooo hard.
The girls and I attended the summer reading program party on Saturday and to my surprise the girls tied for reading the most books in their age group, so they both received a Wal-mart gift card. Actually, I read all the books and they sat through them all. We did read quite a few books in the past two months, but it never crossed my mind that we would have the most as we have been so busy with summer activities in general. Great surprise!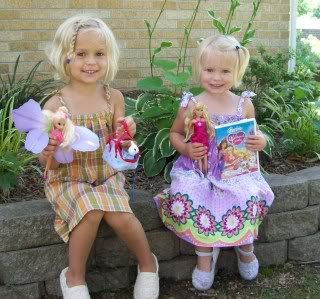 Here are the girls showing off their prizes. They each got their name drawn and Jaidyn picked the little stuffed puppy in a carry case and Addy picked out the High School Musical Sharpay Barbie. Today, I let them use their gift cards and Jaidyn bought a Thumbelina doll which she has been wanting for months and Addy picked out Barbie and The Diamond Castle DVD. Strolling the toy isle was a nice treat for them as we completely avoid that isle unless we are shopping for a birthday present for one of their little friends.