We are still waiting to receive confirmation on the status of our ICAB funds. If for some reason the money did not get processed and reach ICAB then Levi's medical won't be done on Monday. This would not be good as who knows how long it would be before they reschedule it. We were supposed to get confirmation of the funds reaching ICAB yesterday, but have yet to hear anything. At this point, I am very nervous.
Earlier in the week, I had ordered Levi's toddler bedding and it was delivered yesterday and is now going right back where it came from. I picked it because it was brown and blue (or so I thought) and wasn't themey. I cringed pulling it out of the box as it had pink circles and square designs mixed in with the blue and brown. Wes even liked this bedding in the picture and it had a boy looking room design set up. I am not sure how both of us missed the pink. Definitely not going to work. My mom and I also shopped for Levi's car seat yesterday as they are going to buy that for us as a gift. I found one I liked at Target, but they were out of stock. I had hoped to cross off bedding and carseat from my "Levi list", but I guess that will be another day.
On another note...
yesterday we visited Ozark Caverns which is only about 25 minutes from our home. It was a perfect way to get out of the humid summer heat. The cave is a constant 56 degrees all year long. My mom had been on several visits to the cave in the past with summer school kindergarten classes, so she knew that the girls would enjoy the tour. It is a natural cave and we weren't able to touch anything on our guided tour through it. We also weren't to take any pictures of the bats since they are supposedly on the same frequency as cameras and it could disturb them. We didn't see any in the cave anyways.
Everyone carried little lanterns through the cave. Jaidyn and Addy were giving forced grins as the group was moving on while I was trying to take this picture and they were afraid we were going to get left.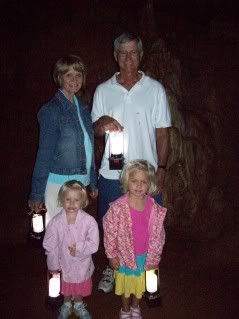 Almost never fails, Papa has his eyes shut in the picture.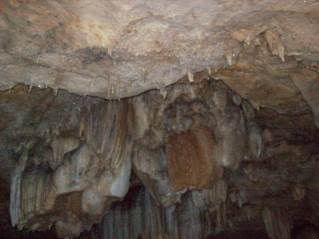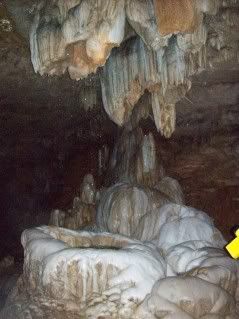 "Angel Showers" ~ They aren't really sure where the shower of water comes from that falls from these Stalactites.
Exploring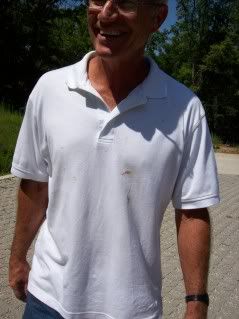 My dad's shirt didn't have this when he went in to the cave, so he can't blame what he had for lunch. Bat Guam, maybe???