Yesterday was gorgeous and the kids and I took full advantage of being outside. I pushed Levi and Addy in the stroller to story hour at the Library and Jaidyn ran along beside us. We then spent some time at the park before coming home to eat lunch and let Levi nap.
Levi eating a popsicle for the first time (or at least with us). His face was so funny. The cold of the popsicle would make him make one of those sour puckered face looks. He really liked it as he kept coming back for more licks.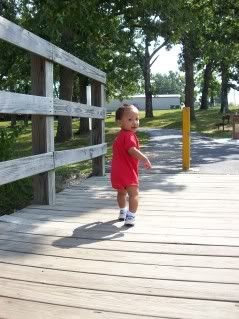 I must have followed him back and forth across the bridge at least 10 times. I think he liked the sound that the bridge made when he walked across it as he would almost stomp across.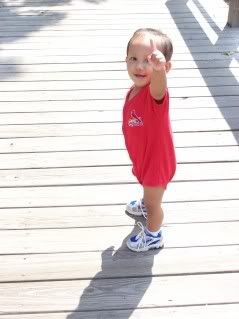 Me: "Come here Levi!" Great, I am already getting the "just a minute" finger. :)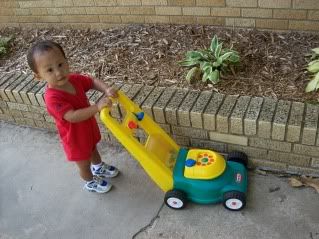 He likes to push the mower, but only across the driveway or sidewalk. For some reason he doesn't like to push it in the grass...maybe that is a sign that Wes needs to mow.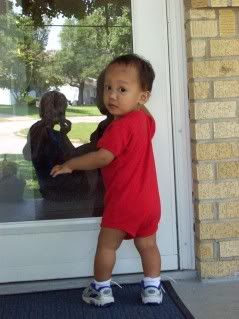 Levi checking out his reflection in the glass door.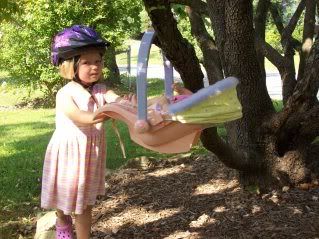 The girls had their babies Lizzie and Sara Bella rocking them in the tree singing "Rock-A-Bye Baby". They had just finished riding their bikes and forgot that they were still wearing their helmets.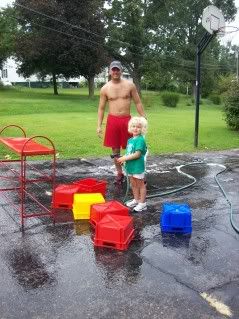 I hit the jackpot today at a few yard sales in our small little town. I think Levi is ready and will be decked out for the winter months. Between the clothes that he has recently received as gifts, clothes passed down from one of Jaidyn's preschool classmates (thanks Sarah), and the outfits that I scored today, he is going to be one stylin' little guy. I also bought this toy organizer for Levi's room once we move in to a bigger home. Jaidyn helped her daddy scrub it clean, while also taking the opportunity to spray him a few times. :)
Hope everyone has a safe and happy Labor Day weekend!