Before we brought Levi home, we were taking bike rides 2 or so miles several nights a week with the girls. And since we brought Levi home, I have had to follow the girls and Wes with Levi in the stroller and take different routes because I was much slower than they were on bikes or just hang out at home. This past week we bought a bike trailer from a friend so that once again we would be able to go on rides as a family. Both Levi and Addy fit so nicely in the bike trailer and it rode so well that Addy fell asleep. We weren't sure how Levi would react, but he just hung out and seemed to enjoy it. He would even wave at me everytime I would ride up beside his little window. Jaidyn learned how to ride her bike without her training wheels (thank you Papa Dave) while we were in the Philippines, so she is getting good at being able to ride several miles now. The weather in Missouri is just perfect right now, so tonight's ride was very enjoyable.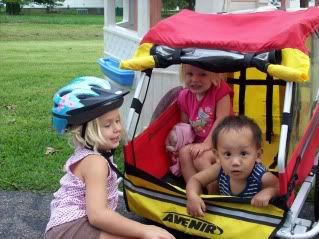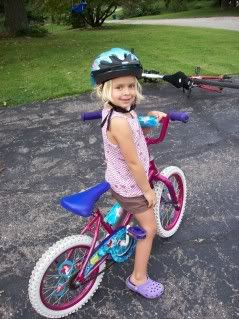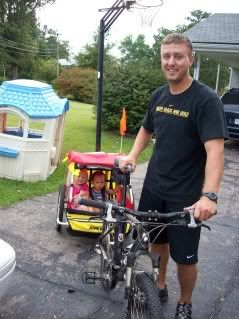 There is so much going on with everyone in Wes's Highway Patrol zone...a new baby, Levi, a wedding and Wes is transfering to a different county, so the Crabtree family threw a great big get together to celebrate everyone's newest ventures in life.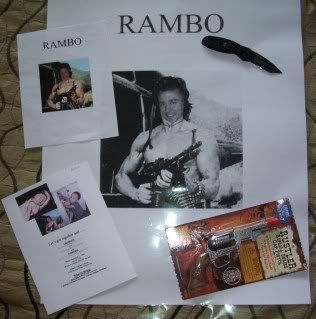 They had several posters hanging of Wes aka Rambo because of his hard charger personality. After seeing the pictures, don't you think that Wes could be Sylvester Stallone's stunt double? Yes, I realize that these next few pictures may be disturbing, but Wes was truly thrilled with the knife that he received as it is kind of tradition to receive one when leaving the zone. It is even lasered with "Rambo" on one side and the Highway Patrol Emblem on the other.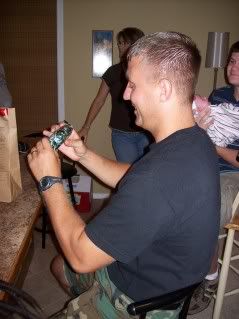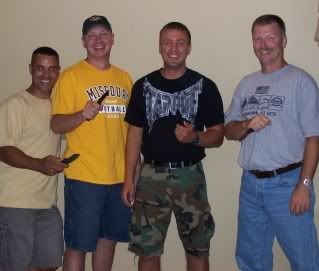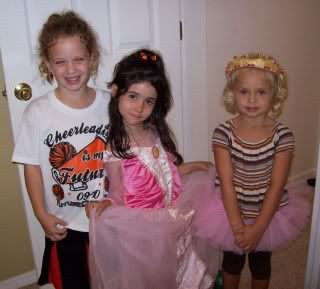 Jaidyn loved playing with all of the other kids all evening! I barely even saw her she was so busy playing.
We have been battling some sort of icky "bug" at our house the past several days. All 3 of the kids are sick and we haven't went anywhere for 2 days unless you count the bike ride. After several days of some over-the-counter meds, they seem to be doing a lot better today, but we still may be seeing a doctor this week. I know that Levi is having to work so hard to build his immune system to so many new things that he probably never dealt with in the orphanage. With all of the flu scare hype going around the slightest little cough and fever make me worry more than I usually might. Hopefully, they all will get over this soon and we can get flu shots done soon.
I though Levi looked so peaceful sleeping a few nights ago. My camera had some serious flash going to get this picture as it was completely dark in the room besides a small night light.