The Labor Day weekend was spent with Papa J.R. and Mama LaLa and more of Wes's side of the family. While the weekend was packed full of activity, according to Jaidyn her favorite thing all weekend was the play house that Papa and Mama LaLa had been building and decorating the past few weekends. We also celebrated 4 birthdays as one family has 3 of their 4 family birthdays all on the same day and their son is only a week before. Crazy! Lots of family got to meet Levi for the first time so it was a very special weekend overall.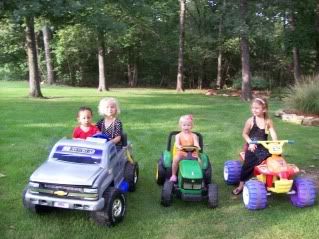 On your mark! Get set! Go! Jaidyn and her cousin both wore the dress-up dresses they have on all day long. Aren't they cute?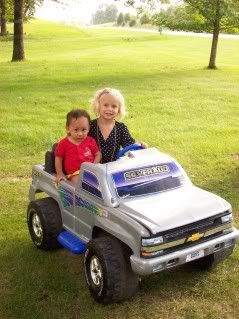 Levi kept trying to run in front of the vehicles, so I finally strapped him in beside Jaidyn and made her put her arm around him and promise me that she wouldn't go faster than the slowest gear. He loved the ride!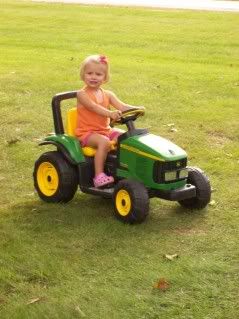 This little John Deere is just Addy's size.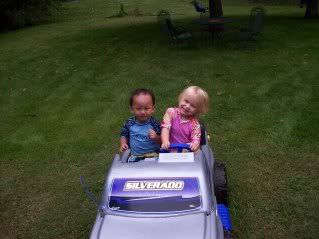 I am not sure pairing the two of them is such a great combination. Addy is not the safest driver of the bunch. I write this as I remember a few month back her looking back at us while somehow managing to maneuver the Dora four wheeler between two trees.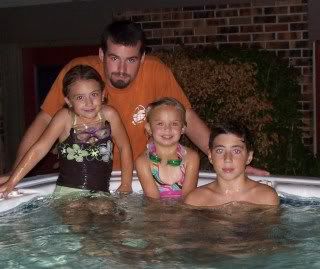 Uncle Bear hung out with the kids while they swam in the hot tub.
Mama Lala gave Addy a bath in the sink after swimming in the hot tub. Papa J.R. gave Jaidyn a shower when she was done swimming. Getting out of bathtime with the girls was a nice little breal for me.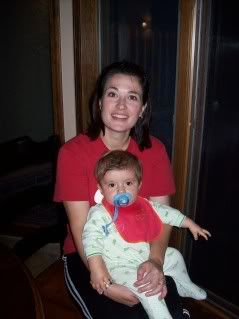 Aunt DeDe and Hudson.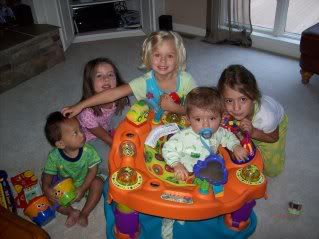 Good morning! Look at the camera, Levi!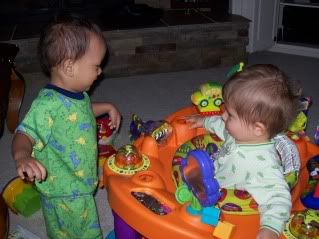 Levi loved spinning the toys on Hudson's exersaucer.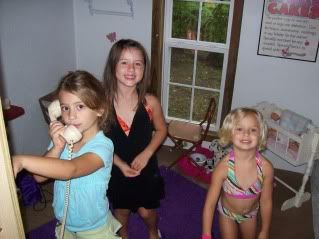 The girls playing in the playhouse...kitchen, chalkboard, manicure table, and babies. I can't believe I didn't get a picture of the outside of the playhouse. It is darling! Every little girl dreams of having a playhouse like this.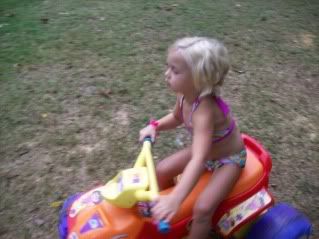 Jaidyn taking a morning cruise around the yard before we loaded up and headed to the lake for the day.
They were so helpful around eating time and would fill the girls plates for me while I fed Levi and then Ashley would eat fast so she could entertain Levi while I ate.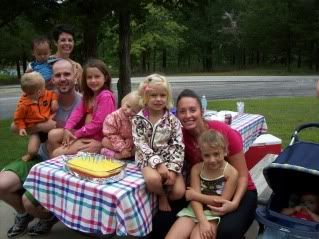 The kids got in a picture with the birthday family.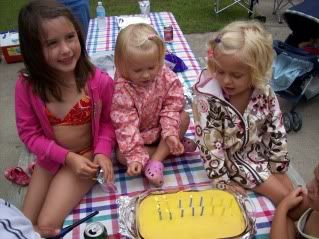 Addy, quit blowing out the candles, it isn't your birthday.
Trying to wait patiently for a piece of yummy cake. I love how they stair step down in size.
We got the girls picnic baskets filled with little treats for their birthdays. I am the worst Aunt in the world. I am not good at keeping up with all of the nieces and nephews birthdays and we are just now getting Hadley a gift whose birthday was back in July.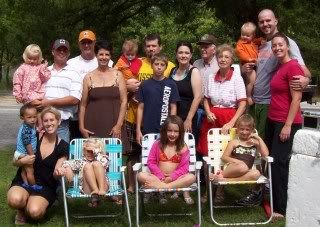 Family Picture! Wes came for a few hours earlier in the day, but had already left for work before we had a group picture taken.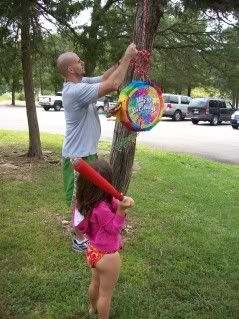 Pinata Time! Happy Birthday!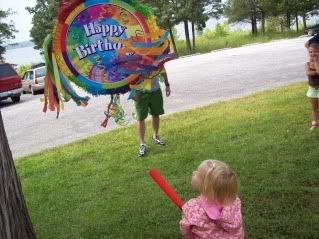 It was a little bit of a reach for Addy to hit.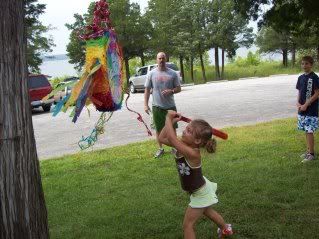 No Mercy!
Jaidyn and her "jump and hit" approach.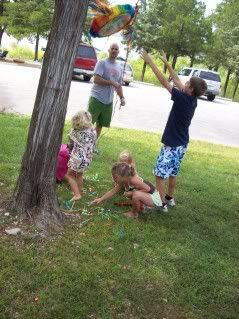 Pulling the strings at the bottom finally allowed the candy to fall.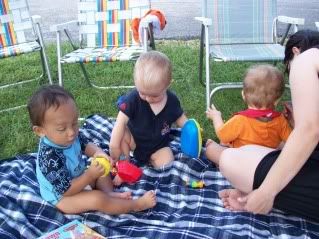 These boys are going to have so much fun together in a couple of years. The boys are all born within about 3 months of each other. In fact, Levi and Hudson are born only one day apart. It is crazy to think that Wes's brother had an addition to their family the day before we did (we just didn't know it yet).
So while we had a wonderful weekend and the weather cooperated it didn't come without cost. When Levi's bedtime rolled around Sunday evening Levi had decided that he had had enough. Levi screamed for almost 2 hours before finally falling asleep in the pack-&-play. I tried everything to get him to sleep and even tried standing and rocking back and forth. While this stopped the screaming he wasn't about to fall asleep. I am really surprised that he didn't go to sleep on his own as he only took a 1 hour nap earlier in the day and that is only because I put him in a stroller and walked him around the parking lot at the lake until he fell asleep. Finally, he had exhausted me to the point that I was ready for bed so I made the girls come to bed with me and all four of us slept in one bed. Levi did finally fall asleep and I placed him back in the pack-&-play, but he would wake up almost every hour through the night. So neither of us got much sleep. The morning wasn't much better as he wanted me to hold him all morning and then even when I did this he was trying to pull my earrings out of my ears and throwing them. He also was trying to hit me in the face. Yikes! We packed up fairly quickly that morning just so I could get him home. Our first few hours at home weren't much better, but by the afternoon he was almost back to good little Levi. So this week has been spent staying on a schedule and keeping what is familiar to him. I completely blame his meltdown on us as he had just had too much stimulation during the weekend...short naps, meeting lots of people, not sleeping in the same place. With the exception of a few nap times, he has had a wonderful week. He has played so well and is even starting to interact with the girls so much more as before he would just kind of parallel play with them. Of course, he is still eating very well and when he finishes his plate, he wants to climb up in our laps and help us finish ours. Just yesterday he picked up his spoon that I left on his plate and put little pieces of Spagetti-O's on it all by himself before putting the spoon in his mouth. Then at dinner last night I would place food on his fork and then hand it to him. He was easilty able to feed himself. I could be wrong, but I don't think he was doing any of this a few weeks ago as he wouldn't even pick up food with his fingers and place it in his mouth. I was thinking that at the orphanage he was just fed by the caregivers as this was so much quicker and less messy than if they would have let each child feed themselves.
Jaidyn pulling Levi around the house in my postal box.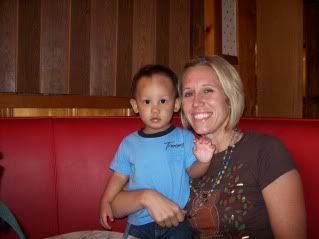 We went out to eat for the first time as a family of 5 the Friday before Labor Day weekend. We had several people comment on what a nice family we had as we were leaving, so I guess we can consider our first dining out experience with all 3 kids a success.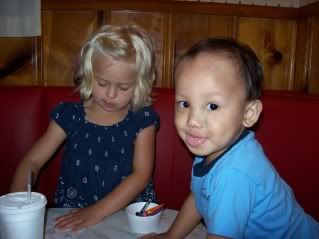 Silly Boy!