Brrrr! It was an extremely cold (freezing) evening, but we dug deep for some Christmas spirit, toughed it out and enjoyed Christmas on the Square in a nearby town.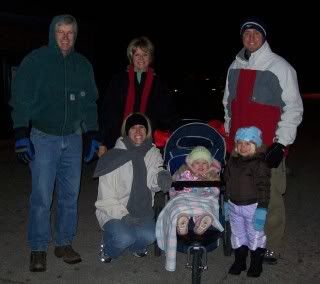 Poor Jaidyn, her snowsuit from last year is way too short, but it was the only one I had for her to wear and it was too cold to go without. We tucked it into the boots so she didn't look like a complete goon with highwater snowpants. However, we all could hardly stop laughing at her all night as she looked just like Ralphie wearing his snowsuit from
The Christmas Story
movie. Too see her run was hysterical. Sorry about all the backside pictures, but I just couldn't resit.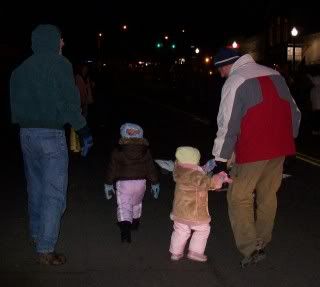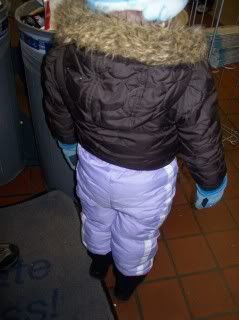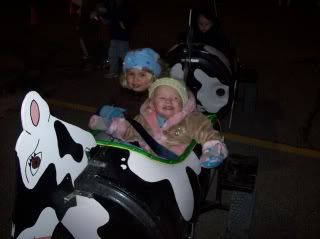 The sleigh ride lines were too long so they settled for riding the cows.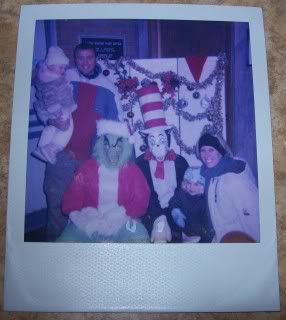 Jaidyn wasn't about to sit by the Grinch all by herself, so the picture with the Grinch and the Cat in the Hat ended up being a family event. We rented
How The Grinch Stole Christmas
today from the library, so Jaidyn can see that the Grinch ends up being good and kind hearted in the end.
A Jaidyn Funny:
Jaidyn - Mommy, Why did you wear Daddy's underwear last night?
Me - Laughing...Jaidyn, I wore a pair of your Dad's long underwear last night so my legs wouldn't get cold.
Glad I had the chance to clarify that it wasn't actually his underwear that I was wearing. Poor girl must have been thinking about this for quite awhile since she didn't ask me this last night.
Today Addy was wiped out from preschool this morning and fell asleep in the car. She even stayed asleep after I carried her inside. She was so proud to wear her little red shoes and told her preschool teachers that they were Wizard of Oz shoes. Jaidyn is all snuggled under her blanket and pillow watching a movie while Addy naps.