Every ornament on our tree has it's own story and means something to our family. Our tree definitely isn't decorated in perfect splendor and is almost a hodge podge of a theme. But, I wouldn't have it any other way. It tells the story of US as a family. Our tree also seems unbalanced as the girls continue to move and rearrange ornaments on the tree and of course many of them seem to be moving towards the bottom half as far as they can reach. Oh well, it really doesn't bother me as it makes our tree even more personalized.
I haven't picked out ornaments for the girls yet this year, but here are several of their homemade ornaments that have recently decorated our tree.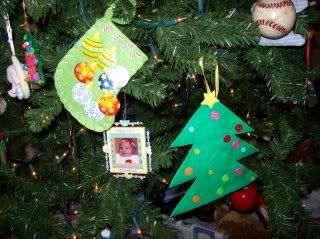 This is Jaidyn's picture ornament for the year. I am still needing to get Addy's done.
My mom gave each of the girls a pickle ornament. The Christmas pickle is a pickle-shaped ornament hidden in the tree. According to German tradition, the pickle brings good luck. After all the other ornaments were hung on the tree, the pickle ornament was hidden somewhere within the branches. On Christmas morning the first child to find the ornament was rewarded with an additional small present left by St. Nicholas. The pickle tradition encourages youngsters to enjoy the many ornaments on the tree before checking to see what St. Nick has brought them. My mom also has a pickle on her tree and everytime we visit, they look for the pickle hoping to receive a piece of candy once they find it.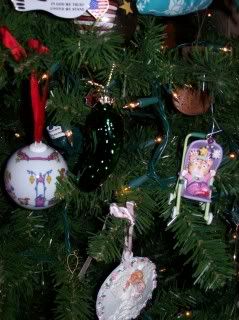 Dad, even if this wasn't a tradition at your house when you were young (as we seem to recall grandma telling us it was), we have started it now. :)
The girls brought these cute little "candy" art pieces home from preschool last week.
"I think you're sweet as candy. Your love always makes me smile. Please keep these hands to remind you, of when I was a sweet little child."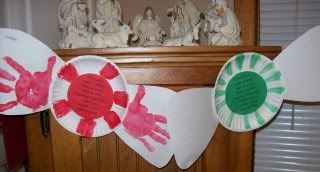 Addy wouldn't let them put any paint on her hands, so hers is only a tracing of her handprint. Today they were playing with shaving cream (Santa's beard) and they told me that she didn't want much of that on her hands either. I am thinking we may have a Miss Priss on our hands. Agh!