Our lives have finally slowed down a bit from the crazy busy Christmas holiday. We enjoyed every minute of it, but it is so nice to be back to the norm. A couple of days ago we took down all of our Christmas decorations only to leave one lonely little snow guy in the living room. He has been left out to help bring a winter of nice, fluffy white snow instead of the sleety winter ice.
Preschool and gymnastics don't start up again next week so we are enjoying a few days of being at home...yes, I said that right, staying at home! The girls have been easily occupied with their new toys and surprisingly have done a pretty good job of sharing them with one another.
Wes has tested out our new vacuum sweeper that we received from his mom for Christmas! Thank you Grandma Penny! The light weight Oreck is awesome. Even Jaidyn is able to push it around. We don't have her vacuuming yet, but when she asks to try it out, we definitely don't stop her.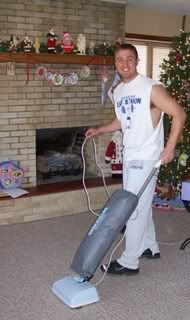 I think that powder blue is a good color for Wes! :)
I just love this picture! So sweet! On the downside, she is still a thumb sucker. She only sucks it when she has her pink "Bear" security blanket in hand. She loves that blanket so much that I hate to take it away.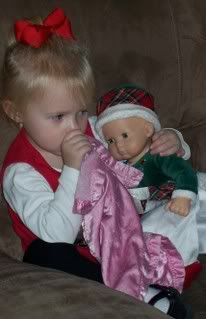 We spent a couple of days at Papa JR and Mama LaLa-LaLaLaLaLa's house. We caught up on some great movies, sat in the hot tub, ate out most of the time, and I even got in a nice nap one afternoon.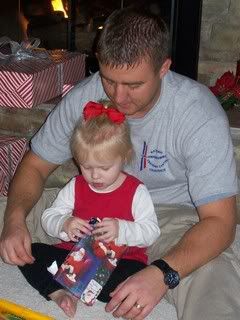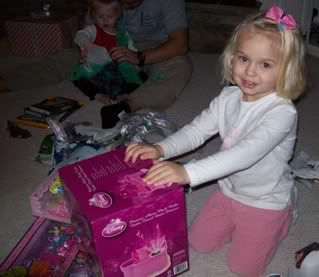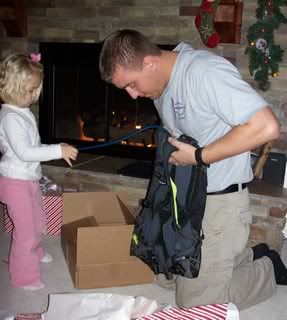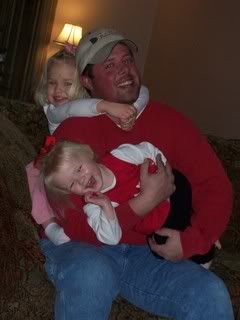 Jaidyn and Addy pestering their Uncle Heath. I would stop them, but he deserves all of the pestering he gets as he is pretty good at dishing it out himself. :)
Hope you all had a very Merry Christmas!