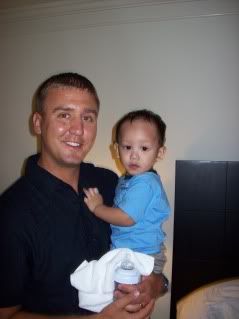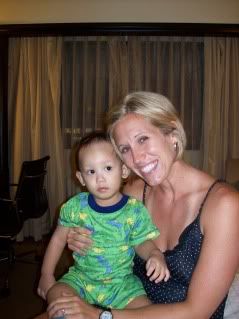 Finally, he is in our arms!! It has been a long day...full of joy and full of emotions. Heart of Mary Villa had a very special visit prepared for us. While it was a short visit, it will be very memorable for years to come. Very emotional. They prepared a life book for Levi which has pictures and notes throughout each month of his stay at Mary Villa. Included were several pictures of his birth mother, pictures of his special caregivers, and playmates. They also included the nursery schedule with the routine that Levi has followed his entire life. Levi's birth mother also left us a letter and a letter to Levi for when he is older and the time is right. We also received a complete updated medical report to pass along to our physician. Before leaving they had a little prayer ritual ceremony praying for blessings during our journey with Levi.
Levi is wonderful! The caregivers had so many great things to say about him. They would laugh as they told us about his eating habits...anything and everything. Whatever we want to sit in front of him, he will eat. They have tried to reduce his bottle feeding to one at night since he has mainly been on solids since he was 6 months old, but they said he gets upset when he sees younger kids with their afternoon bottle so they usually give him one to. He also runs to the door as soon as it is feeding time so that he can be one of the first ones to eat. When they were talking about the multi vitamin they have been giving him, they also made the comment that he probably doesn't need a multi-vitamin because they were pretty sure he was getting in all his nutrients.
On the ride to the hotel from the orphanage he never made a sound. He sat on Wes's lap for most of the trip and his arms were stretched out to his side as if he was afraid to move. His eyes were so big and he would just look out the window at all of the vehicles that would pass us by. He finally relaxed a little and fell asleep for part of the drive. Our social worker who went with us to meet Levi was surprised that he never made a sound on the way back to the hotel as last week when he went to his visa appointment he babbled the entire time. She also said that he is very mobile and wanted to be walking around.
Tonight, we have yet to hear him make a single vocal sound. He hasn't even cried. Levi has finally relaxed and has been sitting up on the bed playing with several books that I brought. He really likes the musical greeting card that I brought along. I am not sure how long that will hold up as it is starting to looking like a crinkled mess, but he is enjoying if for now. Wes finally did get a smile from him about an hour ago. We fed him fresh Mango pieces and tiny pizza pieces for dinner and he ate every bit of it. We have taken several trips up and down the hallway of our hotel room to let him walk. He likes to walk, but only if he can hold one of our hands...very cute!
That's all I have to report for now as I really just want to go snuggle with him before we lay him down for the night. Enjoy the pictures!