First off, I want to wish my parent's a Happy Wedding Anniversary. Sorry I missed it earlier this week. Hope you had a great time celebrating it with Jaidyn and Addy! Did you get to have a nice dinner out at McDonald's. :)
Last night was a night of restlessness. My body still hadn't adjusted to the time change and I was up from 2:30-4:30 am. I watched a little bit of the Asian Living channel for about an hour (interesting stuff) and then played around on the internet for awhile. Wes didn't seem to have any problems sleeping, probably because he is used to time change schedules since he goes from nights to days every two weeks with his job. Hopefully, tonight goes much better. I didn't take a 4 hour nap today, so hopefully I will sleep much more.
Change of plans! We got with the travel agent located in the hotel this morning and booked a "Manila Old & New" tour. For any of those who will be traveling soon, I highly recommend taking this tour. It lasted about 3 1/2 hours driving Makati and Manila. It cost us about $50 each, but was definitely worth it. Our tour guide, Rick was fantastic. He was a retired (or as he would say "a tired")university history teacher, so he was very knowledable about the area.
We were drove through Forbes Park, which was a ritzy residential area dubbed as Millionaire's Row. Rick told us that in the Philippines, 70% of the population is very poor, 20% make an average income, and 10% are very, very rich. He said that the very rich only continue to become richer and the poor, poorer. Sad statistics. He too, also said that Levi is a very lucky baby to be coming to the US. He said that here he wouldn't have any opportunity and would be part of the 70% statistic. I have to admit that this tour was very eye opening. Yes, I have read plenty about the Philippines, but until I actually saw it first hand, it just wasn't a reality. I have many very vivid images in my head right now...mainly consisting of the small street children.
These pictures are from a distance, but you can see some of the poverty living circumstances.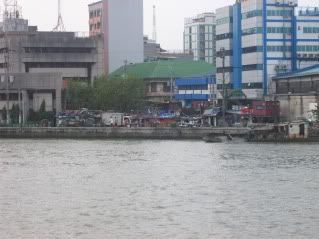 Our first stop was the American Cemetery and Memorial which is reputed to be the largest and most beautiful of American memorials outside of the Continental US. I wish I would have brought a notebook with me on the tour so I could have jotted down some of the statistics throughout the trip, but I am very sure that I remember Rick saying that the white crosses represent 10,000 missing in action American Soliders and 60,000 Filipino soldiers from the Baton death march.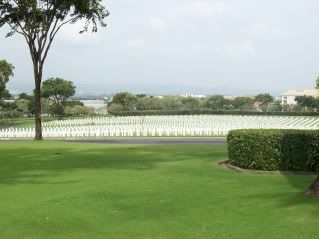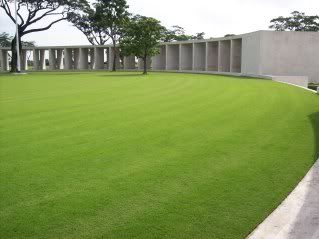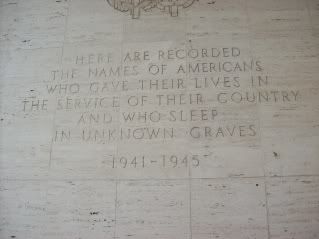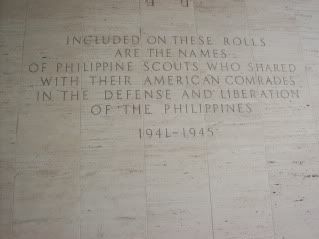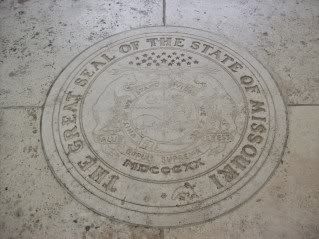 48 states were represented with their state seal in the memorial.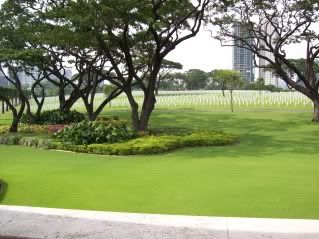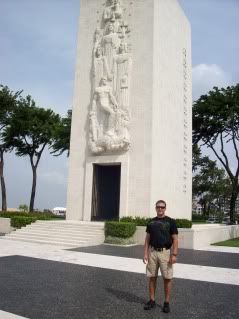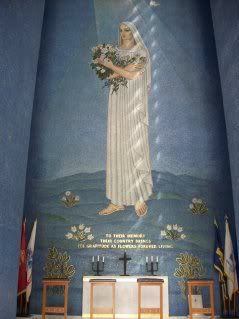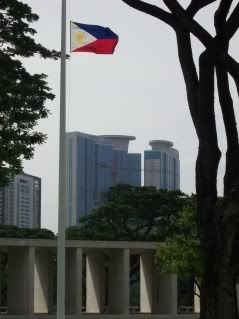 Flags were only half massed today in honor of the former President Corazon who died on August 5th. The tall blue buildings in the background are condo's that can be purchased for $30 million each if anyone is interested. You even have your own helicopter landing pad on top so that you can avoid Manila traffic. Hmmm!
We then proceeded on to Rizal Park which is in memory of the country's national hero. A beautiful park, lot's of history.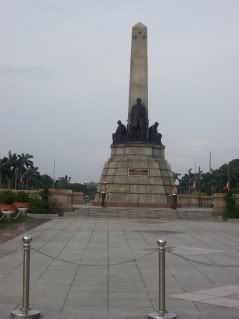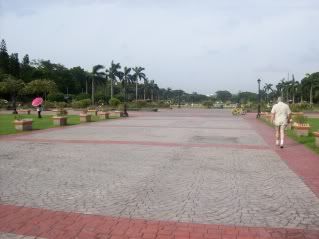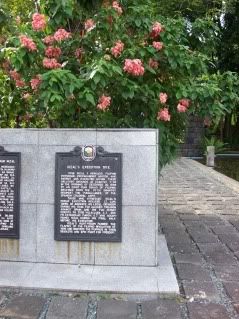 We also passed the "Walled City" of intramuros. Here we saw ancient walls (which had bullet holes in them), church ruins, and other relics of the Spanish Conquistadores. We also stopped at the San Augstin Church which was historically beautiful, but we were only able see in from the entrance as there was a wedding in progress. I kind of felt sorry for the wedding party as there were many tourists such as ourselves snapping pictures from the entrance. It just didn't seem to be a very private ceremony. Rick told us that weddings are big ordeal here because in the Philippines it is until death do them apart. They don't do divorces so they have to be sure from the beginning. At another old church (the one that they held President Cory's wake at last Wednesday for 2 days), we witnessed the bride getting out of the vehicle in front of us. She had approximately 10 bridesmaid in her wedding party. Rick shocked us when he said, "Ugh, she's ugly, but you can tell by her dress and the size of her wedding party that she is very rich." Yep, he was one of those truly honest type of guys and says things as he's sees it.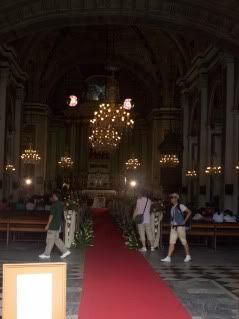 Look closely and you can see the bride and groom kneeling at the alter.
I think it was an Italian architect who crafted the ceilings for the church.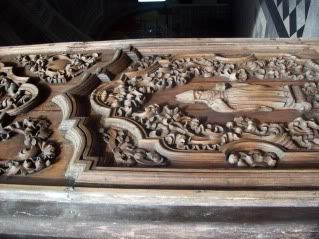 Heavy wooden doors to the church.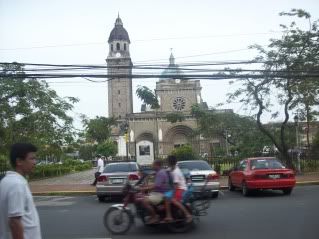 This is the church where President Cory's wake was held. It went on for 2 days and Rick said that the lines to witness this event were very long and people walked a long ways to be a part of the ceremony. We wouldn't have been able to get remotely close to the church a few days ago.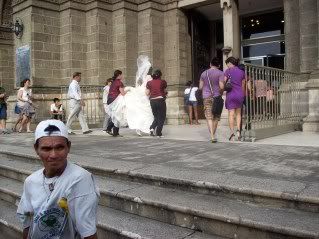 Here is the "ugly but rich" bride entering the church.
Our last stop was Fort Santiago, a spanish fortress that watched over the entrance to the Pasig's River. This is also where the country's national hero, Dr. Jose Rizal, spent his last days before being led to which is now known as Rizal park for his execution.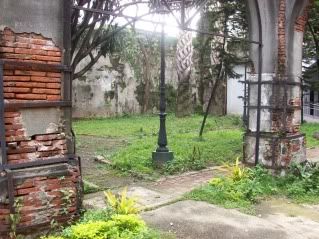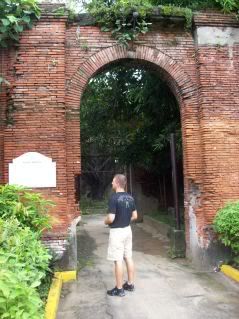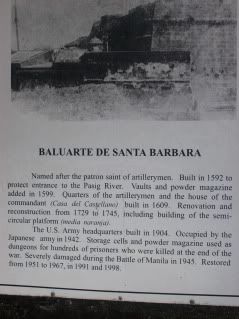 Dungeons where prisoners were kept.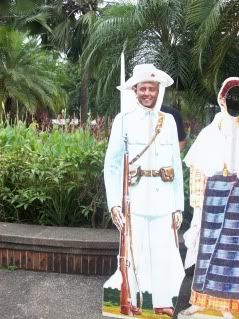 The Philippines posesses so much history and I really feel that by taking this tour it helped us to more truly appreciate Levi's birth country.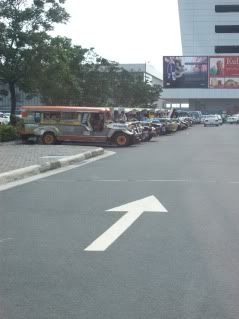 A row of Jeepney's parked at the Mall of Asia. This mall is bigger than the Mall of America. We didn't go inside, but the drive around it was a long one. They have little cars inside for senior citizens to use so they don't have to walk.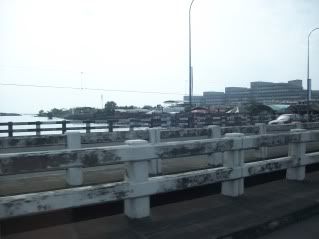 This is a picture of the open seafood market at Manila Bay.
Thank you to all of you posting on our blog. We really appreciate all of the comments and well wishes. Wes and I have never eaten at a California Pizza before and after several of you raved about it through the comments we decided to try it out for dinner. We will definitely be eating there again before we leave. I had pepperoni pizza (I never try anything new) and Wes had the Chicken Adobo Pizza which is only made in the Philippines. They were both fantastic! I left about a 4th of a piece of pepperoni (which Wes ate) on the tray just so I could say that I didn't eat the whole pizza! ha!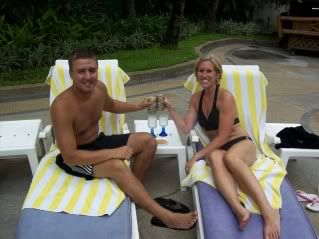 Earlier today, Wes and I had some time to enjoy the pool.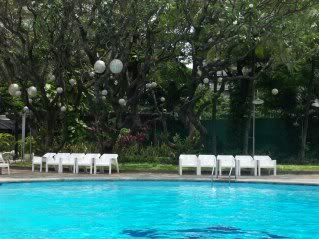 I just love all of the little ball shaped lanterns that look to be floating in the trees. They close down the pool area at 8:00 about an hour after it gets dark, so I hope we get to see them all lit up sometime before we leave.
We think we are going to visit Manila Bay tomorrow. The typhoon that came through earlier in the week left the area trashed, but we did drive by some of it today on the tour and we still think that we would like to walk the boardwalk area. Wes may even try out some of the fresh seafood available.