I just looked at our available internet time and we have 1 hour left. This will be our last blog post from the Philippines. We have our ICAB appointment this morning and then will also go to the airport to confirm Levi's boarding passes for tomorrow morning. Our flight leaves bright and early from Manila, 6:45 am.
Yesterday we just spent the entire day hanging out together. It was our last day on our own as today we have several places on the agenda. This post will mostly be short and sweet with mainly pictures.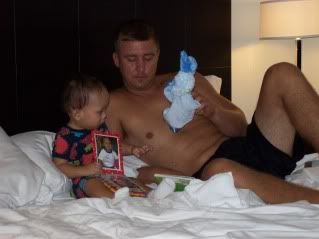 Levi and Daddy just hanging out playing before bedtime (this is from 2 nights ago)
Levi is sporting his St. Louis Cardinal Baseball romper from his Papa J.R. and Mama LaLa. Go Cards! We ate at Burger King for lunch today as we are trying to stay with American food chains to be on the safe side when eating. However, it wasn't a really a good choice as it didn't offer the healthier options like mandarin oranges instead of fries, etc. So for Levi, this place didn't work out very well.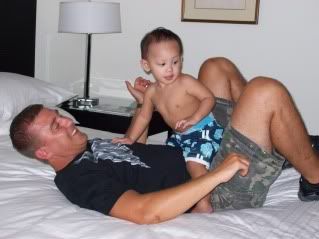 Wes is already trying to teach Levi wrestling moves. I guess he will need to learn them to keep up with his sisters. :)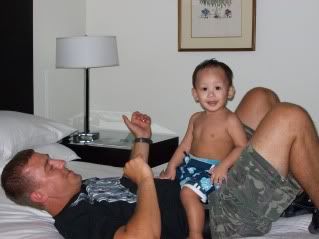 Levi won! Daddy had to tap out!
This is more like it...snuggle time with mommy!
We did go to the pool again today and he did like it, but wasn't in to it as much as yesterday. I think it was being we went down to the pool about 30 minutes before nap time. He is so used to his schedule that I think he could barely keep his eyes open. When we got back to our room he was asleep in his crib within 5 minutes.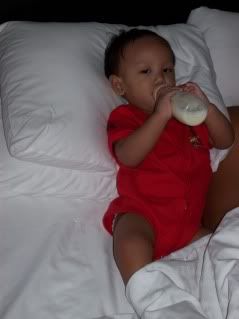 You should see how excited he gets when he sees me start to mix his bottle. He waves his arms excitedly from side to side and gets the biggest smile.
We took Levi to baywalk as this was one of our favorite places that we visited earlier in the week. We love the casual atmosphere and they have had live bands both times that we have been. Part of the baywalk was shut down because the USS George Washington aircraft carrier was at port and U.S. Navy soldiers had a 4 day break. We watched smaller boats take them back and forth from the shore to the ship. Once again it was very cloudy so we were unable to see the sunset. Tonight we ate at Hooters and I will be honest, I picked it. Yes, it was my choice to eat there. To my defense, it was the only place on the boardwalk that wasn't seafood. We looked at, at least 3 different restaurant menus before I chose Hooter's. None of them offered anything I would eat. I am sure you all remember my post from earlier in the week when we ate at Pier 1. Wes also couldn't stomach the idea of eating that kind of seafood again.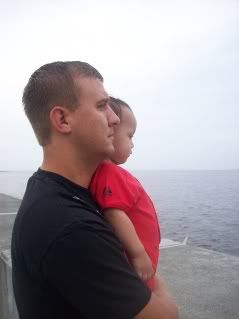 Watching the waves splash in.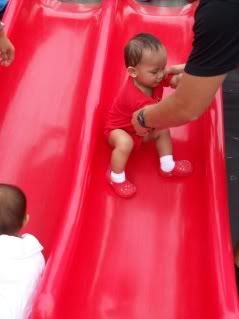 This may have been his first time on a slide. Levi wasn't really sure what to think about it.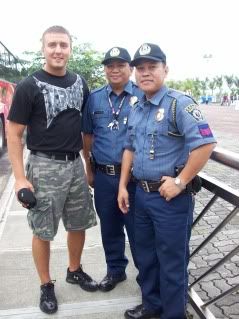 These police men are part of the national police SWAT team. They were very nice and when Wes told them he was part of the SWAT team back home they let him look inside their vehicle and introduced them to a couple more guys on their team.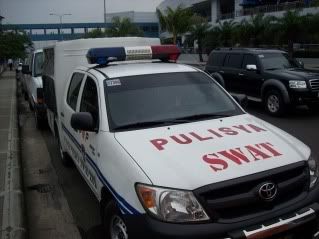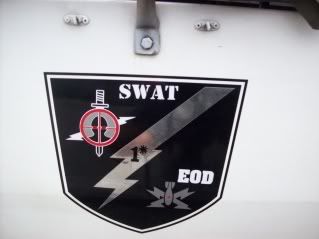 Just hanging out at Hooter's!
Sleepy Boy. His little blanket that his Nana made him has worked out perfectly in his crib.
Please pray for our flight home and that it will be a smooth one. Wes and I are already dreading it simply because it was so miserable on the way over. I wish I had a magic wand and "poof" we could be back home.