We spent our last day in the Philippines attending Levi's ICAB (Inter-County Adoption Board) appointment and then confirming his plane ticket back to the U.S. At ICAB we received his visa passport and the sealed visa document packet that was only to be opened once we reached the U.S. and went through customs. His social worker through ICAB also presented Levi with a few gifts from his birth country. He received a Philippines flag on a stand, a die cast Jeepney toy car, and a book titled, "Philippines, The Land of Your Birth". The book includes history, festivals and holidays, games Filipino children play, and a place to place pictures. They also let us leave him a note to place in his file so that if he would ever revisit one day he could read about what we were feeling during our first days together.
Our welcome sign hanging in the ICAB lobby area.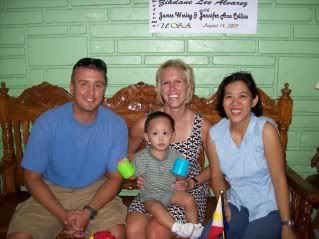 Here we are pictured with Eva. Eva works for Holt and is the liaison between ICAB and our agency. She is one of the ones who worked so diligently to help keep our paperwork moving along so quickly so that we were able to travel in early August. She also took Levi to his medical appointment a couple weeks earlier.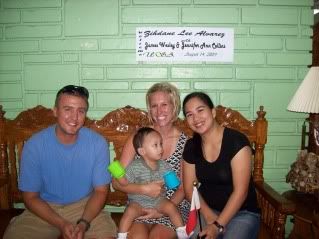 Jonalyn was Levi's social worker who prepared all of the visa packet paperwork.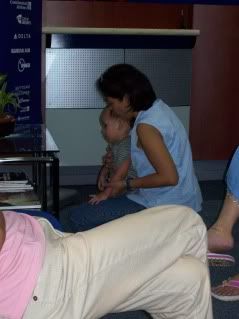 Eva was trying to entertain Levi while we waited in the NWA office to confirm his plane ticket home.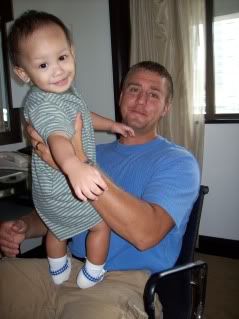 These two make quite the pair!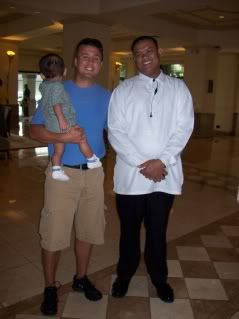 This was our favorite security guard at the hotel. He works 7 days a week, 12 hours a day and travels 3 hours one-way each day to work. All of this to support his family. He was usually the one who was stationed at the hotel front door with the metal detector wand. Wes just loved those pat-downs every time we entered the hotel. Ha! Funny, they always just let me walk on in. So if any of you are traveling soon and staying at the Intercon, be sure to tell him hello for us.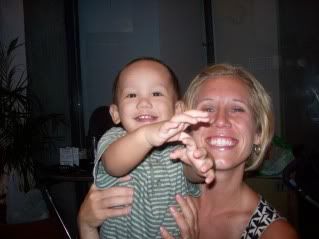 Levi is such a sweet little guy! He loves to wave at everyone.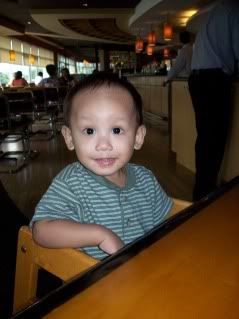 All smiles when it is time to eat!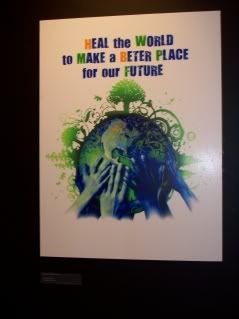 There was an exhibit of graphic art pictures at the mall across from our hotel and the theme was "working together to save our planet". This particular design was one of my favorites.
Friday was a long day just because of all of the required things we needed to do. Plus by this time, we really just wanted to be on a plane and on our way home.
I also wanted to share a few notes that I have made in my journal with our bloggy friends who will be traveling in the future to the Philippines.
* We felt like everything in the Makati area (hotel is in Makati) was priced very comparable to what it would be in the U.S. Of course, this was considered the Beverly Hills area of the Philippines.
* When dining out, a 10% tip was almost always already applied. We left a little more when we had great service since we are used to leaving 20% in the U.S.
* At almost every place we ate, they served the food as it was prepared. Sometimes, I might get my food 10 minutes before Wes would (guess they had to cook those squid a little longer). This actually worked out well when we had Levi because one of us was usually able to feed him while we waited to receive our own plate.
* Advice: If you travel outside of Makati bring your own toilet paper with you. I guess people steal the toilet paper for their own personal use at home, so many places outside of Manila don't supply it. I was caught off-guard 2x without toilet paper. One of the bathrooms even had a sink-like hose like device in the stalls. Was this supposed to be in place of toilet paper??? Ugh!
* We bought drinks and snacks at the ShoeMart grocery store to keep in our room. We really liked that you didn't have to buy soda by the 6-pack/12-pack. We could buy single cans, so Wes and I were able to get exactly what kind we wanted.
* Wes got a haircut in the Glorietta 4 mall while we were there. He said it was a different experience because there was an assistant who just stood by to brush hair off of him and use the water spray bottle while the stylist was cutting. He wasn't used to having so much attention for a haircut.
* While I was taking an afternoon nap one day, Wes went out to walk around outside of our hotel. A man approached him and said, "I see you come from hotel. You want woman?" The hotel security guards caught on and had to shoo the man away.
* While staying at the hotel we noticed that we never saw a female who cleaned or made-up the rooms each day. It was always men. Hmmmm, I like this scenario. Wes, take notes! :)
* We packed very lightly as we had planned to do our laundry about half-way through our stay. Our hotel didn't have a self serve laundry service as I wouldn't have minded to do my own laundry, but they did offer their own service priced at 160 pesos for each garment. Yes, even each piece of underwear would have cost nearly 2 US dollars to wash. Are you kidding me? They did give us a number to a laundry mat service down the street that would pick up our laundry and deliver back to the hotel. We went this route as it was only like 100 pesos per kilogram of weight. We got 2 big bags done while we were there for under 900 pesos. Not too bad of a deal and I got out of doing it.
* We also never saw blue sky while in Manila. We are not sure if it was just extremely cloudy each day or if the pollution or smog had something to do with it. It only rained 2x while we were there, so I can't really blame the weather for the dreary sky.