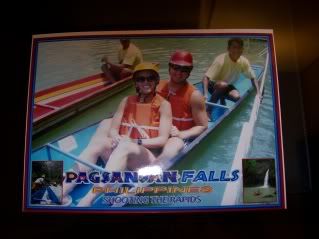 Today we went on another Grayline tour to the Pagsanjan Falls of Laguna. The drive to our destination was a 2 1/2 hour drive south of Metro Manila. The drive itself was very eye opening. Wes and I barely said a word to each other as we just looked out the window at the living standards that the people of this country endure every day. Today, we truly witnessed how the poorest of the Philippines live. Sadly, most of the homes were made of things that Wes and I throw away...holey plastic tarps, old towels as curtains, and scrap metal pieces as roofs. Several had old tires on top to keep the metal pieces down. We passed tons of road side stands selling anything from cocunuts to escargo and saw many rice fields and harvested rice drying on the side of the road. I think many of my pictures will speak for themselves.
The highlight of our day was getting to "Shoot the Rapids" on a native banca (canoe). Wes and I have taken many canoe trips back in Missouri, but this is an entirely different type of boating than we have ever experienced. Our boat was first attached to another banca that actually had a motor. They took us a little ways upstream and then we and our 2 boatmen went to work maneuvering our boat upstream through rocks and boudlers between steep gorges. They worked their booties off to get us all the way upstream to the falls. I was sweating profusely in the boat and I was just sitting there. Our boatmen said they only do one tour a week because it is so strenuous. Once we reached the falls we were able to swim around a little. Wes and I also were able to take a ride on a bamboo raft that has a rope connected from the rock shore to inside the cave under the falls. They pulled us right underneath it. Now I know why we had to wear those dorky hard hats the whole time. Once we passed underneath the 300 foot falls, we were able to swim around in the cave opening. The scenic view of smaller water falls and lush green tropical vegetation throughout the boat trip was beautiful.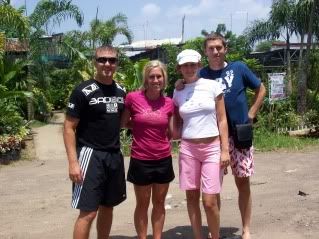 Here we are with the other couple in our tour group. They were from Moscow...and quite an interesting pair.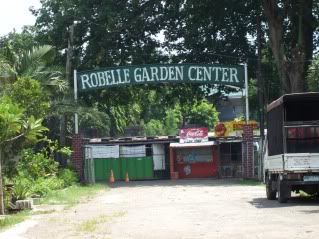 About half way we stopped at a nursery to walk around and stretch out our legs for a few minutes.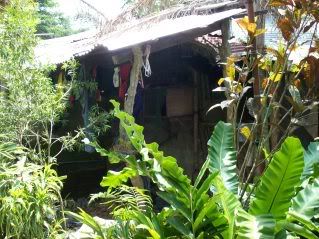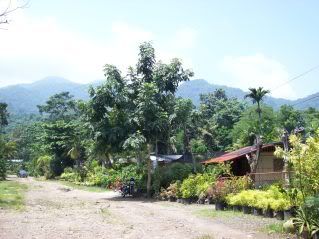 The caretakers of the plants live inside the garden center along with all the plants.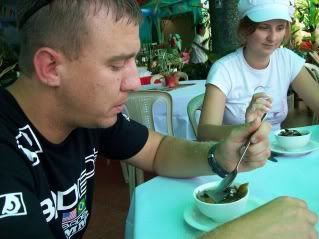 We were served lunch as soon as we arrived. First up, clam soup. Just seeing the looks on the faces of the couple from Moscow was priceless. Wes was the only one who would try a piece. These were little river clams with the shells, and clams soaking in what looked like river water. Wes did get sand/dirt in his teeth on his first bite, so he too was done with it after that. On our actual lunch plate we did have rice and some sort of noodle and vegetable side that I thought was pretty good. Wes and I were the only ones who ate anything from our plates. The couple from Moscow wouldn't touch it.
You gotta love the orange life vests and the hard hats. :)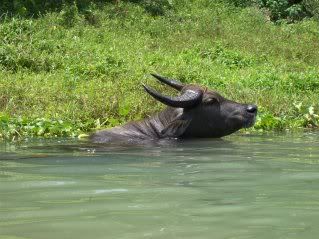 A water buffalo just hanging out in the river.
Another motored canoe had a line of boaters attached bringing them back from the lower end of the Falls.
The following pictures are sites that we saw along the river banks.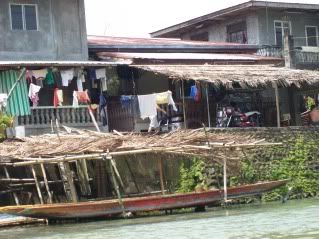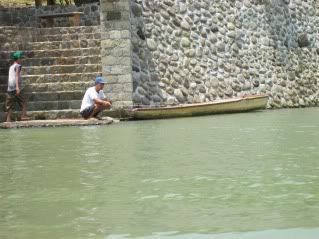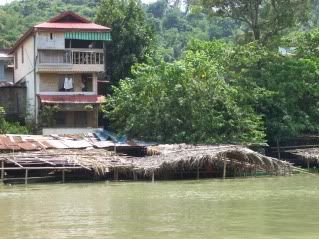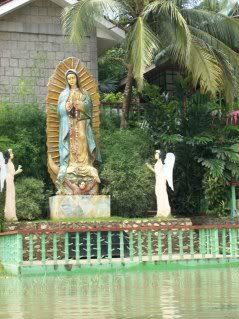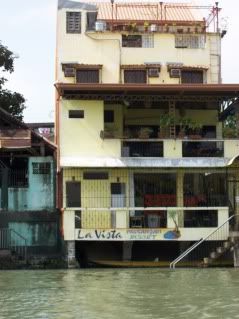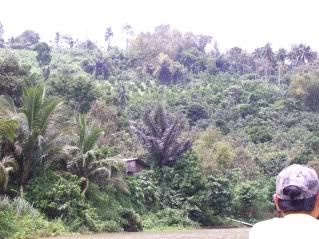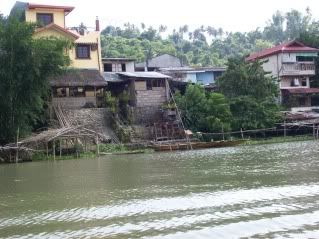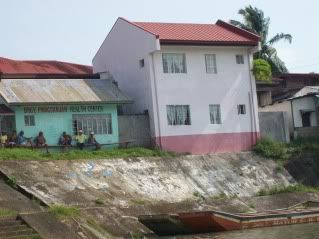 The way our two boatmen could balance one foot in the banca and then push off rocks to maneuver us upstream through boulder rocks was very impressive. None of the guides wore any type of shoes or gloves for their hands. I can't figure out how they didn't stub their toes numerous times.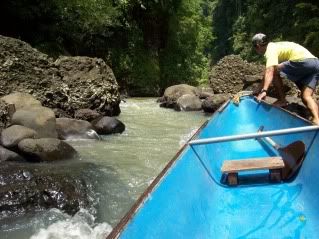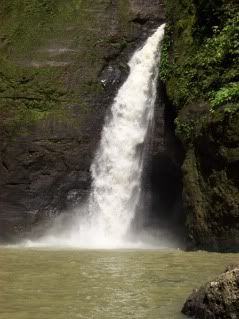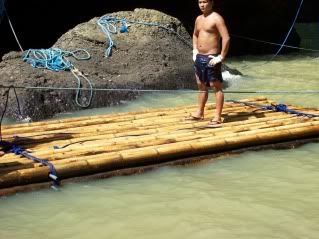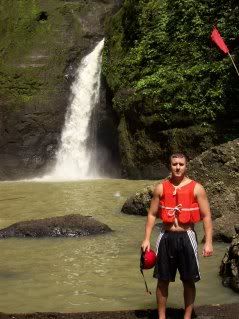 This picture is for Jaidyn. She is always jabbering about something and has earned the name Jabber Jaws Jaidyn and for short we just call her "Triple J". We had the tour guide pull over just so we could take this picture.
For dinner tonight we were craving some Mexican food so we decided to eat at Mexicali which is not far from the Intercontinental Hotel. I would give a better description of our eating experience, but my stomach hurts just thinking about the few bites that I had from my plate. Just wanted to let all of you who may be traveling soon that this is not some place for Mexican food that we would recommend.
Tomorrow is our big day! I hope I sleep tonight. I can't believe that after all this time of waiting that we will finally get to hold our son. The feeling is indescribeable. I don't care how tired I am tomorrow night, I will be sure to post a few pictures of Levi.