Whoa! We truly enjoyed waking up yesterday to all of the comments on our blog, congratulatory emails and notes on Facebook. Thank you!
Sorry about the delay in posting more pictures. For some reason the Internet at the hotel was running extremely slow, so slow that we weren't able to download any pictures. I could barely sleep last night knowing I had so many cute pictures to share with everyone, hence that is why I am up for 4:30 in the morning. :)
We had a wonderful day with Levi yesterday. We were out and about quite a bit, but still came back to the hotel for his nap times just to trying to keep him on a schedule that was familiar to him. We were able to get lots of smiles and some giggles. We are still waiting for him to babble as we have yet to hear any of that. He loved the swimming pool so we will definitely be spending more time in the pool again today.
The first night went really well and he went right to sleep in the pack-n-play crib in the hotel right away. His nursery schedule showed that he would wake at 5:00. Wes and I were dreading that a little so we went to sleep fairly early too. Levi woke up at 4:30 because he was really wet (so wet that it leaked through his clothes) and so we were up for good then.
We did a bath first thing in the morning (the pee smell had to go) and he did really well in the tub. We weren't sure how he would do as he has always just had a bath in the baby tubs up to this point. Levi just hung out while Wes washed and rinsed him. The caretakers were right as he ate everything we fed to him at breakfast. I think the only thing he spit back out was a tiny piece of pineapple and I think that was only because he couldn't chew it. He was very squirmy in his high chair and kept sliding way down in the seat. Now I know why they had a towel tied around his chest when we got to feed him at the orphanage. Oh the joys, of eating out with a toddler again. :)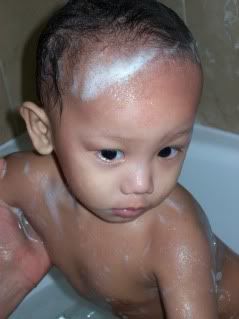 Bathtime!
Levi loves just hanging out looking at all of the board books and picture books we brought along.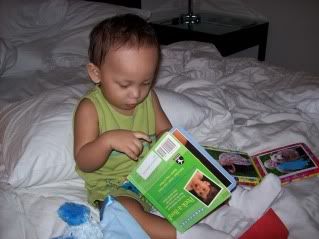 We did some shopping in the morning to get things like formula, sippy cups, and a jacket for the plane ride home. He was quite the trooper while shopping, but mainly because I think everything is so new to him. I am pretty sure this will change.
We ate lunch in the mall at Jollibee. Jollibee is a fast food chain that is even more popular than McDonald's here in the Philippines. I think that Red Ribbon was also combined with the Jollibee because we were able to order some pasta. Wes and I figured that we would just share a portion of each of our plates with Levi. Wrong! Levi chowed on the spaghetti! Wes ended up ordering a cheeseburger and fries for himself. We did encounter some rude people in here. When we first lined up behind the cash register Wes and I were looking up at the menu to tell the cashier what we wanted when someone just snuck in front of us and started ordering. We didn't say anything because we figured that obviously he had somewhere he needed to be soon. Also when Wes went back the 2nd time to order his cheeseburger a lady and her son tried to cut right in front of him. This time, he flat out told them that he was next and started ordering. Weird! I guess if you want any food at the Jollibee you have to be fairly demanding.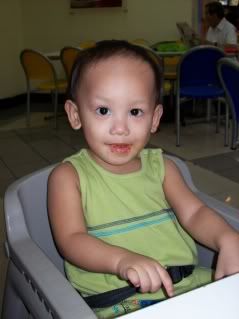 Spaghetti Face!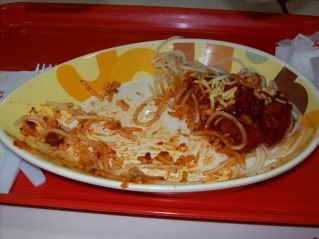 Levi still wasn't finished eating.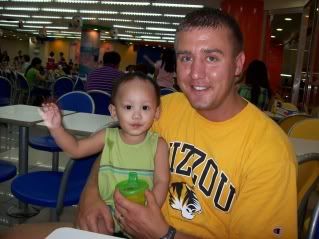 Full belly! He loves waving at everyone.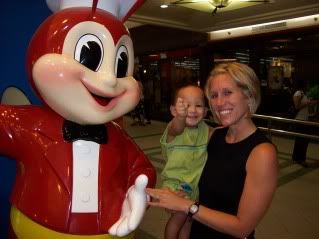 Goodbye, Jollibee!
Strolling the Glorietta Mall.
Levi's walking technique reminds me of E.T. He takes short little choppy steps with his feet turned slightly outwards. He has a little waddle that babies have when they still wear diapers and he looks like E.T. when he walks. I was following behind saying, "E.T., phone home".
After his afternoon nap we thought we would try out the pool. He loved it! He is going to fit in so well with his "waterbug" sisters. Wes taught him how to splash and now there is no going back. We got tons of smiles and lots of giggles out of him while he was in the pool. It was actually raining most of the time they were in the water. I didn't get in, but instead sat under the big umbrella and took lots of pictures and video.
He's feeling pretty cute in his swim trunks (and of course he is very cute).
This is one of my favorite pictures so far of Levi and his Daddy.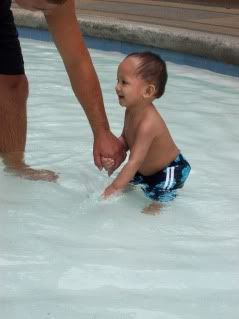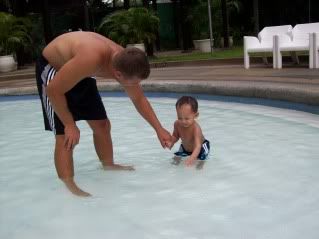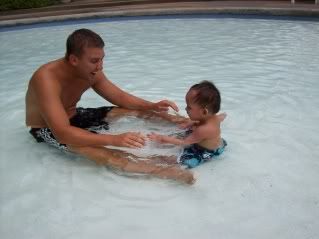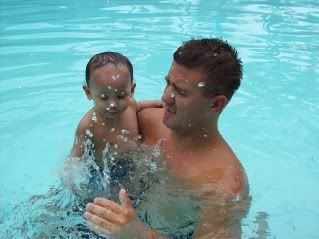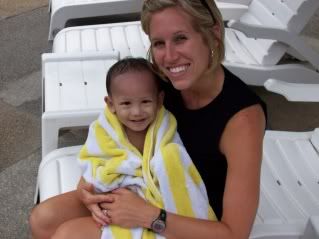 This is my favorite picture of Levi and Mommy.
Levi's wrinkly hands from staying in the water so long.
For dinner we went to Guilly's which is in the Glorietta Mall and has seating outside. It is right beside our hotel so it was nice to sit outside and watch the hotel traffic and night-life going on. We also loved the upbeat music they played through dinner. The food was pretty good, or at least good enough that we might go back and eat there again the night before we leave. We liked the convenience of it being so close to our hotel and the atmosphere.
Levi entertained himself while waiting for his food by watching the cars go by. In this picture you can see our hotel in the background and our room is one of those in the picture. I also strategically got the girl in the green shirt in the picture as she reminded us of my brother's girlfriend, Carrie (only an Asian version). :)
Waving!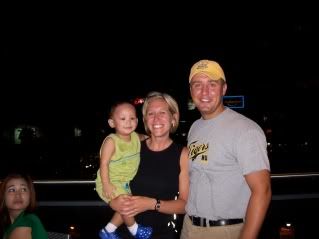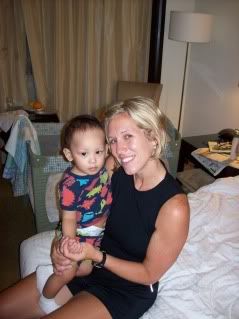 Ready for bed!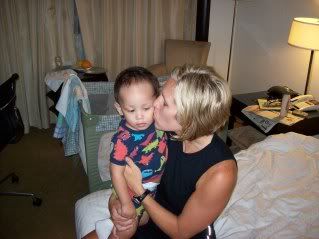 Hugs and Kisses! He looks thrilled doesn't he? :)
Yesterday, we tried to bump everything up an hour from his normal schedule. We napped an hour later, we ate and hour later, and went to bed an hour later. All of this was in hopes that he would sleep until at least 6:00 this morning. It is a quarter til 6, so I think our plan worked.
Two more days in the Philippines! Hopefully, we will be able to post more pictures again tonight if the internet speed will cooperate.