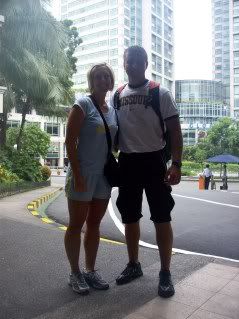 Heading out early from the hotel. We had lots on the agenda today.
This morning we took a taxi (the first time we have been in one since the ride from the airport) to Greenhills Shopping Center. This was quite the experience. I had looked Greenhills up on the internet before going so we kind of knew what to expect. It is a huge indoor flea market with tons of new inexpensive items. Purses, sunglasses, watches, pearls, toys, clothing...you name it, they had it all. We kind of enjoyed the bartering also. It was so funny, because every booth we stopped by would say, "you are first customer of the day, so we go down 50 pesos". Umm, the place was packed and I am guessing that an hour in, we were not their first customer. It was quite entertaining to barter with them as they tried to work a sale. Wes bought 2 pairs of authentic (definitely not real, but they tell you they are) Oakley sunglasses. The girls tried like crazy all morning to coax me in to buying their "authentic" Gucci, Prada, or Coach purses. I resisted the temptation. Besides if I bought one, everyone would easily know it was a knock-off because I don't really shop above Target. :) We did get a few gifts for the girls. Hello Kitty is big here in the Philippines, so we got them each a hello kitty purse and a little hand held asian fan to go inside. They had tons of crocs and I really wanted a pair of the flip-flop style crocs, but apparently Asian women don't have feet bigger than a size 8/9. I needed a size 10 and they didn't sell any 10's in women's. But, they tried like crazy to sell me a men's flip-flop. Ugh!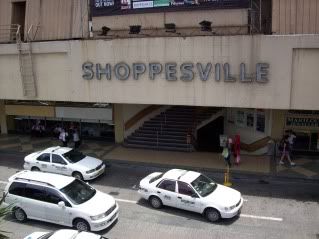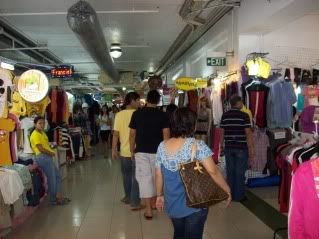 We ate lunch at California Pizza in San Juan just across from Greenhills. That would be the 2nd meal in a row that we have eaten there. I wouldn't be surprised if we eat there again before we leave.
We had heard that the sunset of Manila Bay was beautiful and a sight to see, so tonight we decided to live it up and enjoy some night life in the Philippines. Wes has been in bed asleep at 7:30 the past two nights, so this was a big night for us. Ha! Manila Bay, aka Baywalk is located just off of Macapagal Avenue behind the Mall of Asia. Before sunset we took time walking the boardwalk, strolling through a small portion of the Mall of Asia, and looking in on a Catholic Mass service that was about to begin. We ate at Pier One Bar & Grill. Actually, Wes ate and I watched as I just couldn't bring myself to order anything from the menu. Unfortuneately, it was very cloudy this evening and we couldn't even see the sun set. We loved the baywalk and even though it was somewhat crowded, it was still a relaxing, enjoyable family atmosphere, so maybe we will come back later in the week with Levi. They had a live band at one of the restaurants so we sat around for an hour or so enjoying the music. It was quite entertaining as everytime they didn't sing a song in English, one of the male singers would do actions on stage so that the foreigners (us and a few others) could follow along. You can probably imagine some of his actions when they were singing love songs. Quite funny!
Mall of Asia
I missed getting the name of this church. The church was very large and the pews were packed for the 5:30 pm mass on Sunday evening. There was standing room only at the back and you can see in the picture the amount of people standing outside.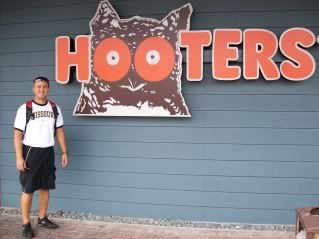 Yes, they have Hooter's in the Philippines too! I am not sure why Wes was so adiment about getting his picture outside the restaurant. Must be a guy thing!
Pictures from the BayWalk.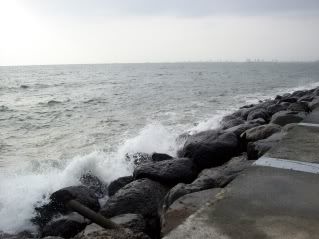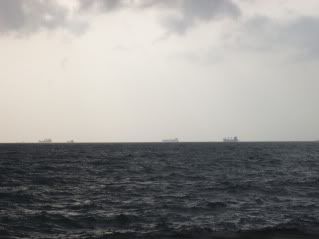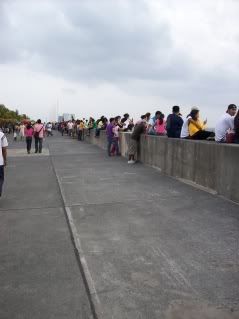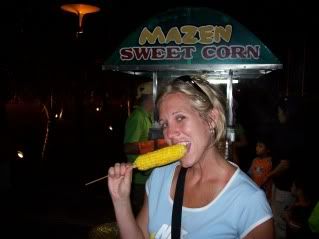 I know I have been warned not to eat anything from the outside vendors, but I could't resist. Hot, buttered corn on the cob on a stick. Besides, it was my dinner.
Okay, so this part of the post is especially for my sister, Jill. She and I are both extremely picky when it comes to food, so I just wanted to share some of the appetizers on the menu of the restaurant that Wes ate at tonight.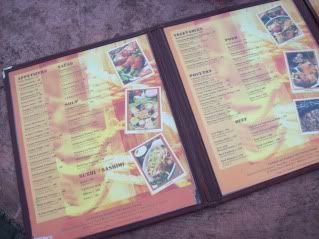 Crispy Kangkong - deep fried swamp cabbage
Mangga't Bagoong - green mango w/ fermented shrimp paste
Balut Ala Pobre - unhatched baby duckling in garlic ~ a Filipino delicacy
Tokwa't Baboy - fried beanweed w/ sliced pork ears
Crispy Tenga - crispy pork ears
Chicharon Bulaklak - deep fried pork intestines
Dinakdakan - grilled pork belly w/ liver in vinegar & spices
Kalderetang Kambiry - spicy goat meat stew
Wes had Laman Dagat Sa Bilao which consisted of a processed, grilled seafood variety...squid, salmon, mussels, and shrimp.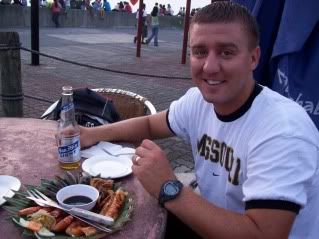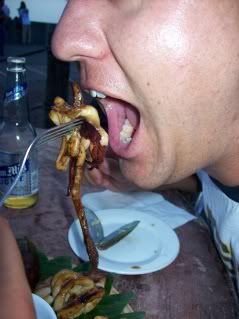 So I have several taxi related comments:
- Not a single taxi that we have ridden in since the airport shuttle taxi has seat belts in the back seat. It is frightening to not be strapped in. These taxi drivers are crazy. You should see the bumpers of most of these vehicles. Most of our cab drivers that we have had have seat belts, but don't wear them. However, on one ride today about 1/2 way through the drive the driver puts his seat belt on as he is swirving through traffic. OMG! How is that supposed to make us feel as we don't have a choice?
- Almost all of them have, "How's my driving?" with a phone # printed on the back of each car. Seriously??? Wes and I just crack up everytime we think about it.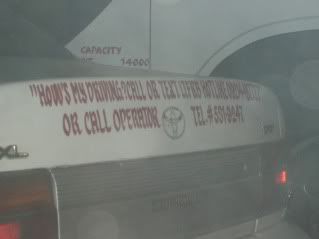 - I believe that anyone who can drive here in Manila can be successful driving anywhere in the world. I would never want to get behind the wheel here.
- I am extremely nervous about traveling with Levi in these circumstances. I would feel so much better about him being in a car seat, especially with the way the drivers drive. There is just not a lot of caution involved.
- Oh, and for those of you who will be traveling to the Philippines, we have found the taxi fare rates to be very reasonable. All of our drives have been 25 minutes or less and I don't think that any of the fares have been over 200 pesos and even with a flag down rate or small tip, they are very inexpensive way to get from one place to another.
For tomorrow, we have booked another Grayline tour and will be visiting the majestic Pagsanjan Falls. We will be riding on a native banca (canoe) to the falls. I think we even get to go in a cave and take a swim if we want. We are excited to be doing something a little more on the adventurous side.
Only 1 more day until we go get Levi!! We are so ready!